Why Women Will Win More Math Medals
Women in math, science and tech are showing more staying power at the high school and college levels. So Maryam Mirzakhani's Fields Medal, the first won by a woman, will definitely not be the last.
by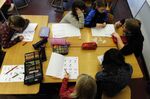 It's telling that the first-ever female winner of the Fields Medal -- the mathematics equivalent of a Nobel Prize -- graduated from college in Iran, a country with one of the world's least women-friendly cultures and legal frameworks. It takes the toughest, or the most oblivious to their surroundings, to create a path that others can follow.