view
Falling Wages Quiet Bank of England Hawks
Gon't be surprised if Bank of England Governor Mark Carney finds an excuse to resume a more hawkish stance in the coming weeks and months, even if his words aren't reflected in the central bank's actions.
by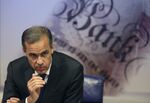 Bank of England Governor Mark Carney just got less hawkish about when U.K. borrowing costs might rise, judging by the reactions of the British pound and the interest-rate futures market. He looked distinctly shifty, however, when challenged on whether he might still be speedier than is justified by economic data.
At today's press conference to explain the central bank's quarterly inflation report, Carney was pressed repeatedly on whether the puzzling absence of pay increases, even as unemployment tumbles, is a reason for the monetary policy committee to stay on hold.
"There's no magic number" for wage growth that would "unlock the moment when we adjusted rates," Carney said. "Wages, while important, are not a threshold for policy." It seems likely and appropriate, though, data showing wages are declining would be a sufficient condition to keep borrowing costs low.
Average weekly earnings dropped by 0.2 percent in the second quarter from a year earlier, figures published today showed, worse than the 0.1 percent decline anticipated by economists surveyed by Bloomberg News. That's even though the unemployment rate dropped to 6.4 percent, putting joblessness at its lowest since 2008.
In its May inflation report, the central bank had anticipated wages would grow 2.5 percent in the fourth quarter, accelerating to 3.5 percent next year and 3.75 percent in 2016. Now, it sees pay risingby just 1.25 percent in the final three months of the year, though it's projecting a jump to 3.25 percent in 2015 and a frankly unlikely 4 percent the year after.
The British pound, which had been on notice from U.K. economists that rates would rise by February, if not before the end of this year, duly took a dive against the dollar: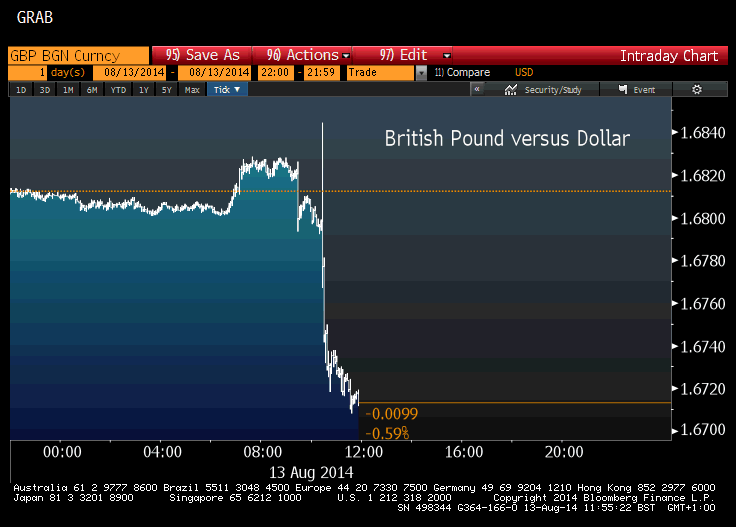 That might be premature. Asked by Bloomberg's Emma Charlton whether an early tightening in the benchmark rate, which has stayed unchanged at a record low 0.5 percent since early 2009, might be part of the recipe for ensuring borrowing costs rise modestly, Carney was uncharacteristically evasive:
Your point is conceptually correct but not decisive for the MPC at this juncture.
My takeaway is that Carney knows it's difficult to talk about higher borrowing costs when workers are seeing their wages drop, in absolute terms and even more so when adjusted for an inflation rate currently running at about 1.9 percent. He also wants borrowers to be aware that their loan and mortgage payments will rise at some point. So don't be surprised if the governor finds an excuse to resume a more hawkish stance in the coming weeks and months, even if his words aren't reflected in the central bank's actions.
To contact the author on this story:
Mark Gilbert at magilbert@bloomberg.net
To contact the editor on this story:
Toby Harshaw at tharshaw@bloomberg.net
Before it's here, it's on the Bloomberg Terminal.
LEARN MORE