view
Bitcoins Aren't as Scary as the Government Says
Imposing costly rules on bitcoins at this early stage of development could stifle innovation.
by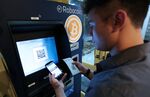 It's been a few months since I last wrote about bitcoins, but I couldn't resist a brief note after this week's warning letter from the Consumer Financial Protection Bureau about the risks of virtual currency. In announcing the advisory, CFPB Director Richard Cordray cautioned that bitcoin investors "are stepping into the Wild West."
As my readers know, I tend to be a fan of the idea of creating informal and relatively unregulated technologies for buying goods or services. We're not there yet -- bitcoins still have problems -- but some of the issues pointed out by the CFPB are features, not bugs.
"Virtual currencies are not issued or backed by the United States or any other government or central bank," the advisory warns. That's sort of the point. Then there's this bit of caution: "To work, they depend on the processing power of vast networks of unidentified, private computers around the world, which maintain and update a public ledger called the 'blockchain.'" For fans, this is precisely what makes bitcoins attractive.
And even though the advisory contains some useful warnings, the CFPB seems to be going out of its way not to be helpful. For example, the letter points to the dangers of storing the private keys necessary to access funds on a smartphone or a USB flash drive. But it somehow never gets around to suggesting such best practices as encryption of your data or cold storage -- that is, storage offline -- for your currency.
The CFPB advisory is chock-full of cautionary examples of investors who lost their bitcoins because of hacking or carelessness, and I've no doubt the accounts are true. But the bureau does not appear to have undertaken an independent inquiry. The tales of woe are cherry-picked from news reports. The true story is more complicated. The letter doesn't mention, for example, the recent hacking of Mintpal, where vericoins were taken, but the bitcoins, kept in a cold storage wallet, were safe. Moreover, Dell Inc.'s recent decision to join the list of businesses that accept bitcoins -- although perhaps in part an effort to regain the "cool" factor -- also suggests at least a moderate faith in the currency's future.
Let me be clear: The CFPB's warning does an important service, lest consumers pile into bitcoins without first informing themselves. And virtual currencies, as I have written, still have kinks to be worked out. But there are positives as well as negatives, and bitcoins, although down from their January peak -- and down a bit more in the immediate wake of the CFPB advisory -- are still trading well above last year's prices. Although there are risks to investing in bitcoins, let's not forget that there are risks to government action too. The natural urge of bureaucracy is regulation. Following that urge -- imposing costly rules on virtual currency at this early stage of development -- could stifle innovation in a field whose potential is enormous.
To contact the author on this story:
Stephen L Carter at scarter01@bloomberg.net
To contact the editor on this story:
Michael Newman at mnewman43@bloomberg.net
Before it's here, it's on the Bloomberg Terminal.
LEARN MORE