Real Cowboys Don't Summer on the Vineyard
President Barack Obama probably should allow a decent interval before that next speech on income inequality.
by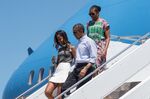 For most people, summer is a treasured time to cool your heels in a cottage by a lake or in a hammock in the backyard. It's not so simple for politicians. For them, deciding when and where to vacation can be perilous. Repair to a beach on the East Coast and you're an out-of-touch elitist; stay away too long and you'll be asked who's minding the store.