Europe's Crash-and-Burn Economy
The euro economy is a step away from deflation and two slips away from slumping back into recession as Germany loses momentum.
by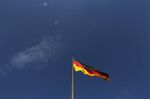 As the euro-region economy struggled to emerge from recession in recent years, officials could at least comfort themselves with the performance of the German economy: "We'll always have Frankfurt," to miscoin a phrase. That's no longer true.
German investor confidence has worsened for eight consecutive months; today, it collapsed to its lowest level in two years. The euro-region economy is in flames. Here ends the argument that the world of finance and economics is shrugging off Ukraine and Iraq and Ebola and Gaza and all the other geopolitical risks currently assailing the headlines.
A sentiment index measuring faith in the six-month economic outlook dropped to 8.6 this month, according to the ZEW Center for European Economic Research in Mannheim. The index has slumped from a seven-year high of 62 reached in December. ZEW explained the situation thus:
The decline in economic sentiment is likely connected to the ongoing geopolitical tensions that have affected the German economy. Since the economy in the euro zone is not gaining momentum either, the signs are that economic growth in Germany will be weaker in 2014 than expected.
Figures scheduled for release on Aug. 14 are likely to show that the German economy, Europe's biggest, contracted by 0.1 percent in the second quarter, according to the median forecast of economists surveyed by Bloomberg News. The euro zone as a whole will be lucky to manage growth of 0.1 percent, based on data scheduled for release that same day. So just one slip and the region will be flatlining; two slips, as it were, and recession will be just one quarter away: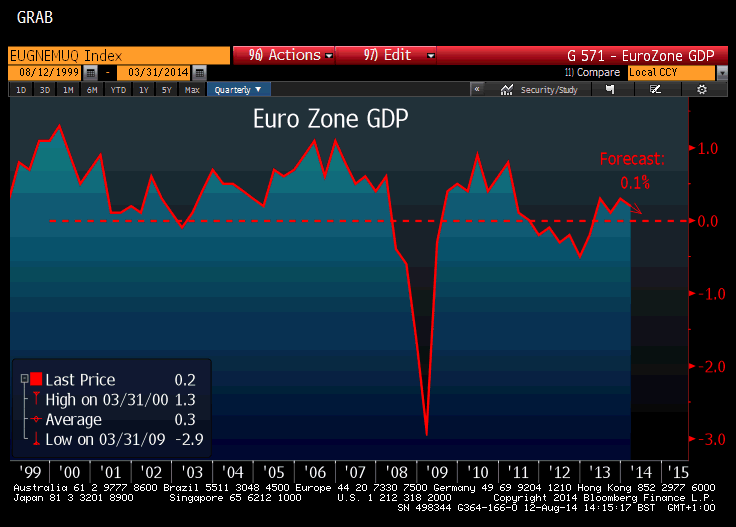 The specter of deflation, meantime, looms ever larger. In Portugal, consumer prices fell at an annual pace of 0.9 percent last month, their sixth consecutive decline, figures today showed. In Italy, already mired in recession, prices were unchanged as companies presumably decided their prospects are too gloomy for customers to endure increases. The euro-zone economy is heading for a crash; what will it take for European Central Bank President Mario Draghi to see that?
This column does not necessarily reflect the opinion of Bloomberg View's editorial board or Bloomberg LP, its owners and investors.