But Where Does the Special Sauce Come From?
In Shanghai, all it takes is a few clicks on your smartphone to find out where those french fries are coming from and whether the processing plant passed its last inspection.
by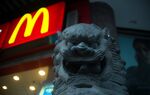 Ever wondered where the fish in a McDonald's Filet-O-Fish comes from? If you're a Chinese customer of the world's most famous burger chain, wonder no more. Over the weekend, the Chinese outlets for U.S. restaurants McDonald's, KFC, Carl's Jr. and Burger King, as well as Taiwan's Dicos, were ordered by Shanghai's government to disclose the source of every ingredient they serve in the Chinese marketplace.