Can Zynga Get Past One-Night Stands?
Kirsten Salyer writes about consumer culture for Bloomberg View and is the site's engagement editor. She has also written for Condé Nast Traveler, Texas Monthly and Houston Community Newspapers. She has a bachelor's degree in journalism and international studies from Northwestern University.
Read More.
No, Facebook friend I forgot I had, I don't want to play a game with you. Not anymore.
It's taken Zynga -- the video game maker known for "FarmVille," "Words With Friends," "Mafia Wars" and plenty others -- awhile to catch on to shifts in consumer gaming habits. It shows.
On Thursday, the company posted weak quarterly results and cut its full-year outlook. This followed the decision to delay introducing new games.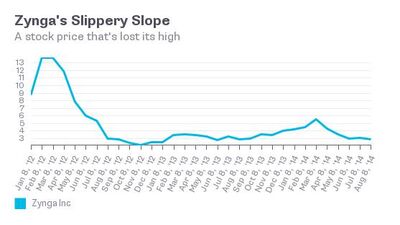 Zynga, like many of its competitors, is weathering the shift from online gaming to mobile platforms. Its mobile bookings surpassed its desktop usage for the first time in the last quarter. Revenue from mobile games industrywide may exceed that from PC games by 2015, according to Gartner, a research firm.
Unlike its competitors, however, Zynga faced an added hurdle: untethering itself from its reliance on Facebook.
Zynga's "FarmVille" Facebook app, developed in 2009, struck a chord among users partly because (a) it was convenient (users were already spending more and more time on Facebook); and (b) it was social (it connected users with friends so they could play together and talk about the game). You needed your friends' digital presence to succeed, and Facebook let you show off your victories. "FarmVille" quickly became the most popular game on Facebook, with more than 30 million people playing it daily at one point.
Although only several years have passed since "FarmVille's" debut, users' Facebook habits have shifted. Games that want you to connect to Facebook to play with friends and share updates have become annoying rather than addicting. Among millennials, for example, 81 percent use Facebook, but the majority thinks people generally share too much information about themselves online. Just look at how many articles offer instructions for blocking game notifications while you surf around Facebook. I get that. I don't care that someone I barely knew in high school is beating me at "Candy Crush."
While Zynga is much less reliant on Facebook's network, it has yet to offer another game that matches "FarmVille's" success.
Part of the trouble for the company is that the users who made "FarmVille" and other game applications popular are fickle and seem to have an insatiable appetite for new, innovative alternatives. A very unscientific look at Google Trends for games such as "FarmVille," "Angry Birds," "Candy Crush" and "Flappy Bird" shows that they have only brief spurts of popularity -- partly because the wealth of options afforded digital gamers allows them to move on to something new on a whim. My guess is that mobile makes that process ever faster (I'll be curious to see how long "Kim Kardashian: Hollywood" stays in the spotlight.)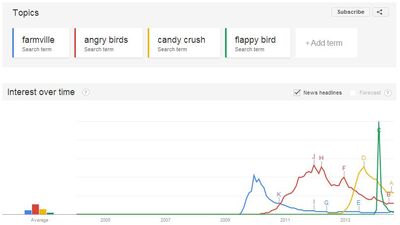 Zynga recently announced deals for games with the NFL, Tiger Woods and Warner Bros. to try to ride the popularity of games with sports themes. But sports isn't a hot category in mobile gaming. In the mobile gaming universe, 35 percent of gamers play casual, social games most often; only 13 percent said they played games in the action and sports category most often, according to a 2013 survey from the Entertainment Software Association, an industry trade group.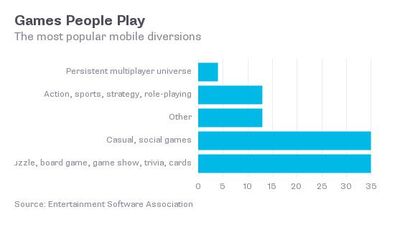 Zynga does have the mobile-friendly "FarmVille 2: Country Escape," released in April and in the top 30 in the Apple app store's list of top grossing games. It aptly includes in its description: "Play with your friends or on your own in our new Anonymous Mode: Facebook not required."
Still, I haven't downloaded it. Watering mini virtual strawberry fields seems way too complicated when I can click other apps on my phone and spend mindless hours swiping tiles or clicking colored dots. In my busy, overconnected life, I've found a certain appeal in casual, simple, low-intensity distractions.
So Zynga still has a lot of work to do to cultivate its garden and win the loyalty of gamers such as me. And for any other business that hitches its fortunes to the vagaries of social media and mercurial gamers, Zynga is a cautionary tale.
This column does not necessarily reflect the opinion of Bloomberg View's editorial board or Bloomberg LP, its owners and investors.
To contact the editor on this story:
Timothy L O'Brien at tobrien46@bloomberg.net