Amazon Book Battle Is Yesterday's War
Amazon, publishers and authors are fighting over the economics of an obsolete business model when they could be spending time on building a new one.
by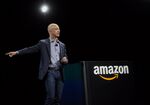 The pitched battle being fought by Amazon.com Inc., authorsand publishers over the price of books is sad to watch. What they fail to recognize is that in the world of digital literature, book ownership will soon be an anachronism.
The fight has heated up in recent weeks as Amazon tries to squeeze lower prices out of publishing company Hachette Book Group Inc. by limiting customers' access to its books, and authors such as Stephen King, John Grisham and Michael Lewis call on their readers to flood the inbox of Amazon Chief Executive Officer Jeff Bezos with angry e-mails. The publishers and authors say Amazon -- which is estimated to control 65 percent of the e-book market -- is unfairly exploiting its near-monopoly position. The online bookseller says e-books should be cheaper than printed ones because the marginal cost of producing an electronic copy is zero.
Readers are getting a raw deal from everyone. Amazon's tactics are interfering with book availability: Foraging elsewhere for the title you want can be a chore if you use a Kindle or are accustomed to buying from Amazon. Also, it's true that prices are unjustifiably high given the cost of producing e-books. In Russia, for example, where book piracy is much more of a threat than in the U.S., electronic bookseller Litres.ru manages to sell nonpirated e-books for half of what Amazon charges.

This is not a desperate battle over a shrinking market like that of the music industry. Data from 2009 suggest that U.S. children and teens were actually spending more time per day reading books for pleasure than a decade earlier -- a good sign for the industry's demographics. Book sales are stable in unit terms and growing in dollar terms: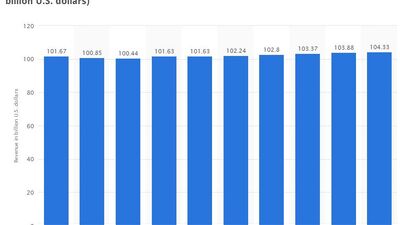 That said, the book market is following the music market's technological development path. It progressed from hardcover and paperback books -- analogous to vinyl LPs and CDs -- to Amazon's Kindle, which could be used to purchase books from Amazon the way Apple Inc. sold songs to iPod users through its iTunes store. Now even the Kindle model is obsolete: People read e-books on smartphones and tablets and download them on ever-present data connections. So Amazon and other companies such as Oyster and Scribd are offering a subscription model in which customers pay a flat fee for access to a large quantity of books. This might not work in books, though: Only 27 percent of U.S. respondents who buy books at all purchase more than 10 per year, the volume required to justify any kind of monthly fee.
For readers, a better model might be an enormous digital library in the cloud, where any book could be borrowed -- made available for a time -- for a smaller fee than its current purchase price at Amazon. Owning books makes about as little sense these days as owning music files, but paying the full price for lifetime availability could be an option. Any of the big cloud players -- Amazon, Microsoft Corp., Google Inc., Oracle Corp. -- or an ambitious startup renting cloud capacity from them could make such a service available. In this model, publishers would work mainly as promotion agencies, or authors could do their own marketing.
This model can't become a reality, however, while industry players are still arguing about the economics of the previous iteration. By the time they're done, the concept of book ownership may become as alien to most consumers as music ownership already is and car ownership is getting to be, and the industry will start shrinking in earnest. That can be avoided only if publishers, e-book sellers and authors set aside their differences to work preemptively on a reader-friendly model for new times.
To contact the author on this story:
Leonid Bershidsky at lbershidsky@bloomberg.net
To contact the editor on this story:
Mark Whitehouse at mwhitehouse1@bloomberg.net
Before it's here, it's on the Bloomberg Terminal.
LEARN MORE