Sunday Question for Conservatives
Do Republican primaries need to be fixed?
by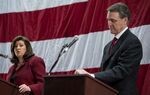 We've just completed another round of contentious Senate primaries, with several incumbent Republicans getting serious scares -- though they all survived.
It seems likely that we'll see another crop of these challenges in 2016. What should the next set of challengers do differently? What should institutionalized conservatives do differently? What would you like to see happen to make this process as helpful as possible for advancing a conservative agenda?
This column does not necessarily reflect the opinion of Bloomberg View's editorial board or Bloomberg LP, its owners and investors.