What Mattered This Week?
by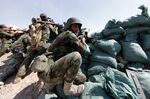 I'll take the easy one: A new intervention in Iraq certainly matters.
Even though it's August, there didn't seem to be all that much hyped-up nonsense this week, perhaps because of the various foreign affairs situations and the three election days. Maybe I'm forgetting something. I suppose I'll go with hype about young Americans turning libertarian as my pick for what didn't matter. That isn't happening, but it doesn't matter if reporters fall for that one ever few months.
But it was a newsy week, August or no, so what do you have? What do you think mattered this week?
This column does not necessarily reflect the opinion of Bloomberg View's editorial board or Bloomberg LP, its owners and investors.