Trade of the Day: Swap Your Putter for a Wetsuit
The Trade of the Day is to swap your putter for a wetsuit and running shoes as triathlons surge while golf declines. 
by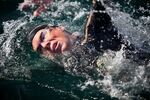 "Golf is a good walk spoiled," Mark Twain is reputed to have said. Sporty types are starting to agree.