Sausages, Cats and the ECB
Mario Draghi is failing in his efforts to herd the ECB's policy makers to do more to resuscitate an economy sliding into deflation and, possibly, recession. 
by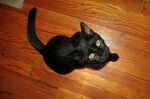 Formulating monetary policy at the European Central Bank is akin to "herding cats," former Bank of England governor Charles Goodhart said yesterday. The disparity of views among ECB policy makers, he said, explains the "difficult circumstances" Mario Draghi faces in his efforts to resuscitate the euro region's economy.
The backdrop deteriorates daily. Italy, which revealed this week that it slumped back intorecession in the second quarter, said today that nonperforming loans at its banks -- i.e., the ones that aren't getting paid -- leaped by almost 21 percent in June from a year earlier. Bad loans at Banca Monte dei Paschi di Siena, the nation's third-biggest lender, have jumped 34 percent in the past year.
Draghi is pinning his hopes on two curatives. He's trying to talk down the euro to extend the decline of about 4 percent against the dollar in the past three months, which should boost exports. And he argued at yesterday's press conference that the combination of central bank loans to the region's banks and plans to start purchasing asset-backed bonds will soon start to revive economic growth.
In theory, it should be a simple mechanism to animate the economy. The ECB pumps cheap cash into the banks through the targeted long-term loan program, which kicks in next month and which Draghi says might supply as much as 850 billion euros ($1.1 trillion). Next, the banks lend that cash to companies. They then bundle the loans together into asset-backed bonds, and sell those securities to the ECB. This way, the cash flows into the real economy and doesn't get trapped on bank balance sheets.
In practice, reanimating the discredited asset-backed bond market is a tricky business. The securities need to be "simple, transparent and real," Draghi said. "Real means they are not going to be a sausage full of derivatives."
Every loan, though, is different, and the rules for what data banks must collect and report about their borrowers vary from country to country; so even if the securitization sausage isn't stuffed with derivatives, the contents won't be pure, unadulterated pork. (There's also the nontrivial issue of whether European companies are sufficiently confident about their prospects to want to borrow and invest Draghi's 850 billion euros.)
In June, I moderated a panel discussion on credit markets featuring Tim Barker, head of credit research at Old Mutual Global Investors, Hugues Delafon, who runs European corporate debt capital Markets at Credit Agricole, and Hans Lorenzen, the head of investment-grade product strategies at Citigroup. They were all of the opinion that it's near impossible to impose homogeneity on a bundle of loans to achieve the transparency Draghi craves.
All of which makes me incredibly sceptical about the prospects for the ABS program, and whether it isn't just a distraction from what's really needed from the ECB: Full-blown quantitative easing following the example of the Federal Reserve and Bank of England, absorbing a range of debt securities from bank balance sheets to grease the economy by printing money. I'm not a fan of central banks' intervening in market pricing mechanisms or of turning on the printing presses; but, with apologies to Shakespeare, if it were done when 'tis done, then 'twere well it were done quickly.
This column does not necessarily reflect the opinion of Bloomberg View's editorial board or Bloomberg LP, its owners and investors.