Why Did McDonald's Put Tofu in My McNugget?
Can tofu, fish paste and a deep-fryer save East Asia's fast-food eateries?
by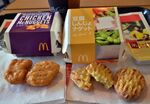 Can tofu, fish paste and a deep-fryer save East Asia's fast-food eateries?
On Tuesday evening, during a layover in Terminal 1 at Tokyo's Narita International Airport, I decided to answer that question for myself. Upon landing, I went directly from the gate to the small McDonald's on the concourse. I was in search of the Tofu Shinjo McNugget, a deep-fried fish paste/tofu combo (with some veggie flecks tossed in) that was introduced last Wednesday in Japan.
The timing of the release was auspicious: The previous week, McDonald's outlets in Japan stopped importing chicken products from China after severing ties with Shanghai Husi Food Co., the U.S.-owned, Shanghai-based supplier responsible for about 20 percent of Japan's Chicken McNuggets. The cause, as much of Japan (and the world) now knows, was a July 20 investigative report broadcast on Chinese television showing that Shanghai Husi -- which supplied meat to McDonald's, KFC, Papa John's, Burger King and other chains operating in Asia -- had revised the expiration dates on meat, among other unsafe practices.
If you enjoy the occasional grilled chicken sandwich in Asia, you may have noticed the scandal's impact on fast-food menus: I've seen them labeled as "unavailable" at McDonald's in both Singapore and Tokyo recently. Last week in China, some McDonald's outlets were reduced to a vegetarian menu.
The impact has been particularly keen in Japan, which puts an emphasis on transparency -- and perhaps holds a lingering antipathy toward Chinese-produced food (thanks in part to a 2008 scandal involving poisonous Chinese-produced dumplings). July same-store sales for the burger chain were down 17.4 percent, year-on-year, while per customer spending declined for the first time in 15 months, dipping 8.6 percent "due to fewer people buying Chicken McNuggets as a side order," according to the Japan News.
So, how about some healthy McNuggets? According to McDonald's, the tofu concoction had been in the works before the latest Chinese meat scandal, and will only be offered until late September. But in light of current events in Japan and China, it seems unlikely that the considerable marketing effort now being made on behalf of the new nuggets is altogether coincidental. Surely, someone behind the counter at McDonald's sees value in promoting a local deep-fried snack at a time when foreign ones no longer seem safe.
According to the Wall Street Journal, Tofu Shinjo McNuggets are made in Japan, a fact that should offer some solace to Japan's culinary Sinophobes. Likewise, tofu and fish paste are Japanese staples and thus the new McNuggets aren't just homemade -- they're localized. To be sure, no one is going to be fooled into thinking a deep-fried tofu is especially healthy. But, theoretically, it's probably preferable to a McNugget that includes expired meat.
Which leads to an important question: What does a Tofu Shinjo McNugget actually taste like? I purchased the standard box of four for ¥249 ($2.44), retired to a bench and opened the container. It was certainly not love at first sight: They look like Chicken McNuggets. Flavor-wise, they were even less interesting. More specifically, they had no taste at all. The best comparison I can give is probably deep-fried scrambled eggs; only with the help of the accompanying maple-syrupy-looking ginger sauce did the concoction manage to acquire a limp bite.
In fairness, McDonald's didn't concoct the new McNugget for my taste buds. It's entirely possible that it contains subtleties that my Big N'Tasty palate simply hasn't been trained to appreciate. But as I tossed the empty box into a garbage can overflowing with Big Mac wrappers and french fry boxes, it occurred to me that maybe the folks working on the tofu nuggets might be better off searching for safe, Japanese-sourced chicken.
This column does not necessarily reflect the opinion of Bloomberg View's editorial board or Bloomberg LP, its owners and investors.