Trailer Homes Aren't Just for Millionaires
Would you ever consider living in a trailer park? Would you ever consider paying a million dollars to live there?
by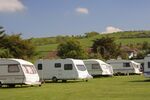 Would you ever consider living in a trailer park? If the answer is yes, would you ever consider paying a million dollars to live there? No, don't laugh -- the million-dollar trailer park is a real thing:
When Chuck and Lynda Cohen decided this year to downsize from their four-bedroom Pacific Palisades home, they never imagined they'd end up in a trailer park. They also never imagined they would pay more than a million dollars for the privilege.

Multimillion-dollar properties are no rarity at Paradise Cove, the Malibu, Calif., mobile-home community where the couple, both retired from the film industry, this spring purchased a two-bedroom, 1,800-square-foot trailer for $1.25 million. Earlier this year, a trailer in the park -- which in the past has included residents like actor Matthew McConaughey -- sold for $2.55 million. And in July, a four-bedroom, 2,200-square-foot trailer with a hot tub and two-car garage went on the market for $3.75 million.

Such prices are partly attributable to Paradise Cove's location. On a bluff overlooking the Pacific Ocean, the park is surrounded by conventional homes that can run in the $20 million to $40 million range, said Michael Gardner, an agent with Prudential Malibu Realty. And with amenities like hardwood floors, high-end appliances and granite countertops, these trailers look little different from upscale conventional homes -- though all of them have a trailer axle hidden somewhere underneath and can be moved, at least technically.
Most trailer parks are not going to command those sorts of prices, of course; you're paying for the land. But high-end manufactured homes are a bustling little market. And that brings me to something I've been wondering for a while: How come they're not a bustling huge market?
If you think about it, it's kind of odd that two centuries after the Industrial Revolution kicked off, we're still making our houses the same way: by carrying sticks to the site and assembling them from scratch. It is, as science-fiction writer Robert Heinlein once pointed out, as if we would be required to assemble our personal automobiles in the driveway. In theory, mass production should allow for higher average quality and lower cost, the way it does in virtually every other industry. In practice, we're still hauling the sticks to the construction site -- in part because Americans will not pay as much for manufactured housing as they will for the stick-built stuff. All previous attempts to convert Americans to a more "modern" housing method -- from Sears to Buckminster Fuller -- have pretty much failed.
I wish I had a good theory to offer as to why this is so. But I don't. So instead, I'll give my audience a question: Why are we still laboriously building the things from scratch rather than rolling them off assembly lines?
This column does not necessarily reflect the opinion of Bloomberg View's editorial board or Bloomberg LP, its owners and investors.