Tight Primaries Shouldn't Worry Republicans
Don't overinterpret the smaller margins of incumbent victory in primaries.
by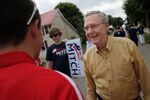 With the last potentially competitive Republican Senate primary in Tennessee today, Nate Silver looks at the numbers and declares that "the GOP still has plenty to worry about. There have been far more close calls to its incumbents than usual."