Putin's Food Ban Hits Close to Home
If Vladimir Putin wants to punish his eastern European neighbors for joining the West, he has chosen the right weapon.
by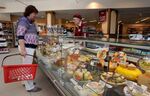 President Vladimir Putin's attempt to strike back at the West with a ban on food imports will miss his biggest adversaries: Judging from trade data, the hardest hit will be the former Soviet countries closest to Russia's borders.
It's hard to know exactly which products will be affected and how thoroughly Russian customs officials will enforce the restrictions, which are meant to apply to dairy, fruit, vegetables, meat and seafood. That said, it's possible to get a sense of the potential impact using an admittedly imperfect mix of 2013 data from Russia and the International Monetary Fund.
The effect on Russian imports from some countries could be significant. Almost 80 percent of Norway's annual exports to Russia, which consist largely of fish, fall into potentially sanctioned categories. The number for Australia is 34 percent: According to Russian data, the country is a big supplier of dairy and fruit products.

For most of the larger countries, though, the hit to exports will be negligible compared with the size of their economies. Even for Norway, the potentially lost exports make up only 0.2 percent of gross domestic product. For countries such as Lithuania, Estonia and Latvia, the damage could be more noticeable -- from 0.3 percent to 0.6 percent of GDP.

In short, if Putin wants to hurt the likes of the U.S. and Germany, he's missing his target. If he wants to reprimand his eastern European neighbors for joining the West, he has chosen a more appropriate weapon.
This column does not necessarily reflect the opinion of Bloomberg View's editorial board or Bloomberg LP, its owners and investors.
To contact the author on this story:
Mark Whitehouse at mwhitehouse1@bloomberg.net
To contact the editor on this story:
Stacey Shick at sshick@bloomberg.net
Before it's here, it's on the Bloomberg Terminal.
LEARN MORE