Watergate and the Costs of Presidential Power
Exerting power by command, rather than bargaining, proved fatal to President Richard Nixon.
by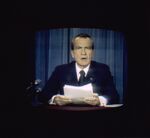 In 1960, Richard Neustadt published "Presidential Power." He argued that the office of the presidency was inherently weak, and that presidents should attempt to accumulate as much power as possible, which would help them and result in good public policy.