Panicked Democrats Look at a Montana Switcheroo
 Senator John Walsh, way behind in the polls,  may withdraw and former Governor Brian Schweitzer would be tapped to take his place.
by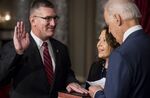 Democrats, desperate to hold their Senate majority, are considering a Hail Mary move in Montana. Some are hoping that their damaged candidate, incumbent John Walsh, will withdraw and former Governor Brian Schweitzer will be tapped to take his place.
Walsh is trailing Republican candidate Steve Daines, a House member, by double digits in polls; any possible comeback ended when the New York Times reported recently that he had plagiarized a paper when at the Army War College seven years ago.
Schweitzer, twice elected Governor, is controversial, passed on running for the Senate once before and is making sounds about running for President in 2016.
To pull off this trick, Democrats need a perfect bank shot: Walsh has to step aside, the party has to agree to replace him with Schweitzer, who, of course, has to agree to run -- and by state law it all must happen within the next two weeks.
Republicans say that whatever happens, Daines remains a prohibitive favorite to take the seat in November.
Walsh was appointed to the Senate when longtime Senator Max Baucus resigned to become U.S. ambassador to China.
This column does not necessarily reflect the opinion of Bloomberg View's editorial board or Bloomberg LP, its owners and investors.