Mr. President, You Can't Do Whatever You Want
Whatever your opinion on immigration policy, I hope it doesn't involve supporting giving the president extremely broad powers to simply rewrite any law that he thinks ought to be different. 
by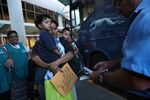 On Sunday, Ross Douthat of the New York Times wrote an uncharacteristically blistering attack on the plan being floated by the Barack Obama administration to quasi-legalize the status of almost half the immigrants who are now in the country illegally. The details remain somewhat vague, but according to the Washington Post, "Ideas under consideration could include temporary relief for law-abiding undocumented immigrants who are closely related to U.S. citizens or those who have lived in the country a certain number of years -- a population that advocates say could reach as high as 5 million."