Latin America Piles on Against Israel
Latin American and Israel traded sharp words during the battle in Gaza, though it probably will do little to alter the trade of goods.
by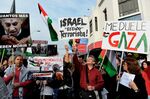 It's a long way from Tel Aviv to Brasilia, but the journey just got a bit longer. When Israel launched Operation Protective Edge, Brazil bristled. President Dilma Rousseff, who rarely gets in a lather over foreign policy, called Israel's move into Gaza "a massacre" and recalled her ambassador for consultation. Israel hit back, with a foreign ministry spokesman snubbing the South American giant as a nation that had become "irrelevant" in world affairs. That stung, in part because it was a familiar slight: former Mexican Foreign Minister Jorge Castaneda once famously slammed Brazil as "a giant that acts like a dwarf" for falling silent while human rights were trampled in Venezuela and Cuba.