India Spurns WTO and That's OK
India has certainly not expressed its position flawlessly at the WTO. But neither has it behaved dishonestly.
by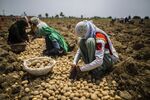 India was painted as the hijacker of a $1 trillion boost to world trade last week in Geneva after it became the only country at a meeting of the 160-member World Trade Organization to refuse to sign a painstakingly negotiated global Trade Facilitation Agreement.

In so doing, the Indian government -- a different one from the body that agreed to the deal at the WTO's Bali round last year -- accused the WTO of neglecting the concerns of the developing world in favor of those of the developed one, demonstrating that it would not allow multilateral trade treaties to overrun domestic policy considerations and possibly throwing into doubt the future of the WTO itself. Finding a way to break the impasse will surely be high on President Barack Obama's list of priorities when India's new prime minister, Narendra Modi, visits the U.S. for the first time next month.
The Trade Facilitation Agreement was meant to be the 19-year-old body's first genuinely global reform measure, one designed to standardize the movement of goods across customs barriers and draw all member nations into a common trade-policy space, instead of the current proliferation of bilateral and regional accords.
India disagreed, however, with a clause in the agreement that capped farm subsidies for all members at 10 percent of agricultural production, as well as with the previously agreed-on compromise formula (somewhat unappealingly called a "peace clause") that allowed a four-year moratorium on issuing agricultural-subsidy quota violations. It argued that the WTO's methods of computing food prices were archaic, and that the clause in question would interfere with India's demanding food-security requirements, which were made law last year through an ambitious food-security bill. Implementing the food-security bill would almost certainly increase food subsidies beyond this 10 percent limit.
By reneging on its own stance from the Bali round, the Indian government stood justly accused of holding a fairly benign, world-spanning reform to ransom. But in a statement in parliament on Tuesday, Commerce Minister Nirmala Sitharaman explained her government's decision as being about ensuring a level playing field for more than just market access:
In contrast to their efforts on Trade Facilitation in the WTO, some developed countries have been reluctant to engage on other issues.

Seeing the resistance to taking forward the other Decisions, the apprehension of developing countries was that once the process of bringing the Trade Facilitation Agreement into force was completed, other issues would be ignored, including the important issue of a permanent solution on subsidies on account of public stockholding for food security purposes.

... Developed countries continue to have large entitlements to provide support to farmers. These would have been cut in the Doha Development Round which unfortunately remains unfinished. Had this Round, which has development at its core, concluded as per the agreed timelines and its development agenda, the world would have had an outcome in a single undertaking in which competing interests could have been balanced. Today, developing countries are fighting to keep the negotiations focused on development against the single-minded mercantilist focus of most of the rich developed world on market access issues.
While many of the larger powers in world trade had reason to be aggrieved by India's backtracking, there's not a lot to point to in past WTO negotiations that shows a willingness to expedite policy on the issues flagged by Sitharaman. Last year, India's venerable Economic and Political Weekly encapsulated the matter in an astringent gloss on the alleged breakthrough achieved by the Bali round of talks: "The trade facilitation is a concrete 'achievement', of benefit to the developed world. But on the other side, the least developed countries and other developing countries were only given what are called 'best endeavour' texts, ie, promises to address their concerns in subsidies, import tariffs and market access. This is the larger imbalance at Bali, an imbalance which has always marked the working of the WTO."
The U.S. wasted no time in registering its disapproval of India's stance, with Secretary of State John Kerry telling Modi on a visit to New Delhi last weekend that the move had sent the wrong signal to the world. But there was plenty of support for India's stance in the business news media, too, and a burgeoning audience domestically for American academic Timothy Wise's "Why the WTO Needs a Hypocrisy Clause," "a top ten list of hypocritical US statements on India's food security program."
For the most part, however, this was no knee-jerk nationalism at work. Many commentators also criticized India's decision to stockpile vast buffer stocks of rice and wheat (sometimes resulting in stocks rotting in government coffers). There is an ever-widening awareness in India that a series of perverse incentives in the food system are generated by the government's policy of buying grain from any farmer willing to supply it at the fixed minimum support price, then resupplying it at subsidized prices through the public distribution system -- even as an estimated 40 percent of supplies are siphoned off by corrupt officials. As economist Kaushik Basu wrote in a widely cited 2010 paper, "In the name of helping the farmer and the consumer and, likely, even with the intention of doing so, we have ended up creating a foodgrains policy framework that has not got high marks on either account."
These are internal matters that the new government knows it must tackle urgently. Meanwhile, it has shown that it would rather not sign a multilateral deal than be accused of reneging on it later. No other body is better equipped to judge -- indeed, that is expressly its task -- how the competing pressures of India's domestic food policy and responsibility to world trade are to be balanced. And as the overseer of the needs of a substantial percentage of the world's hungry, it speaks for special needs in world trade that need to be addressed.
India has certainly not expressed its position flawlessly at the WTO. But neither has it behaved dishonestly. Its demands are not trivial, nor would they be fatal to the proposed trade agreement. It should not be seen as having ruined a worldwide party.
This column does not necessarily reflect the opinion of Bloomberg View's editorial board or Bloomberg LP, its owners and investors.