U.S. Can End Its Losing Streak in Africa
Africa may be at a turning point, given that seven of the 10 fastest-growing economies in the world are on the continent.
by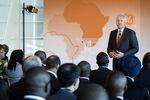 The U.S.-Africa Business Forum, which brings together business executives and heads of state, is being held in Washington today. The event -- part of the three-day U.S.-Africa Leaders Summit and co-sponsored by the Department of Commerce and Bloomberg Philanthropies -- is the first such gathering.