Peace in the Time of Guerrilla Warfare
Colombia's re-elected president has asked Venezuela to help negotiate a peace agreement with the FARC guerrilla movement.
by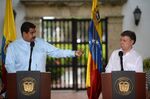 The tour books will tell you that Cartagena de Indias is the jewel of the Caribbean. But for Juan Manuel Santos, it might as well have been quicksand. The Colombian president, re-elected June 15, called on the colonial resort town on Friday for a one-on-one with his Venezuelan counterpart, Nicolas Maduro.