Inequality Exists. Ask the Middle Class.
Inequality deniers play numbers games in an attempt to prove there is a buoyant middle class.
by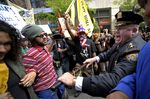 Income inequality creates social tensions in two directions. From the point of view of the majority, it isn't just a question of envy, although that's real; it's also the distortion in prices of important assets like houses in good school districts.