Every State Can Be a Solar State
Which states produce the most solar energy? Not the ones you'd guess. And they used a lot of different policies to get to the top of the list. 
by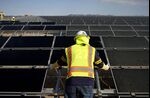 The toxic politics of the Environmental Protection Agency's proposed rules on coal plants were on full display last week, with protests at public hearings in Denver and Pittsburgh. Behind those fights is a more interesting policy question: How much more power can the country reasonably hope to get from renewable energy, without making electricity unaffordable?