Every State Can Be a Solar State
Which states produce the most solar energy? Not the ones you'd guess. And they used a lot of different policies to get to the top of the list. 
by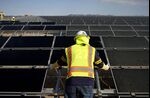 The toxic politics of the Environmental Protection Agency's proposed rules on coal plants were on full display last week, with protests at public hearings in Denver and Pittsburgh. Behind those fights is a more interesting policy question: How much more power can the country reasonably hope to get from renewable energy, without making electricity unaffordable?
When it comes to solar power, the answer is quite a lot more. Start with the international comparison. The U.S. will get just 1.6 percent of its electricity from solar this year, according toprojections from the U.S. Energy Information Administration. In Japan, that figure is 2.4 percent; among most European countries, it's 6.1 percent.
But the more compelling data comes from looking at how states already use solar power. Not only is there tremendous variation from state to state, but the leading states aren't the ones you would expect. The lesson is that what's driving solar power is as much policy as geography. That in turn suggests that other states can catch up -- if they want to.
The state in the continental U.S. with the greatest solar capacity per ratepayer is Arizona, which isn't surprising; after all, people retire there for a reason. What is surprising is how much Arizona leads its neighbors, which enjoy roughly the same number of sunny days. As of May, Arizona's installed solar capacity was 765 watts per utility customer, according to data from the Solar Energy Industries Association. That's two-thirds more than Nevada, almost three times as much as New Mexico and 80 times as much as Utah.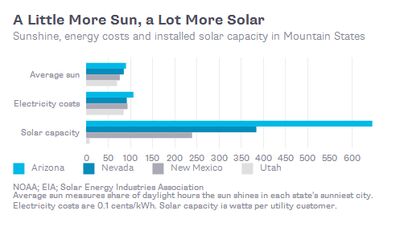 Another standout is North Carolina, whose installed solar capacity is 121 watts per customer, making it eighth-highest in the continental U.S. That capacity is five times greater than Georgia's and 60 times as much as Virginia. South Carolina produces even less than Virginia.
But the best illustration of the link between policy and solar power may be New Jersey, which has more installed solar capacity than any other state east of Arizona. At 281 watts per customer, the state often (and unfairly) associated with turnpikes and Superfund projects has 10 times as much solar as New York or Pennsylvania.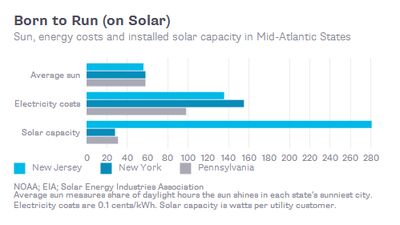 As the charts above suggest, there's no clear connection between reliance on solar power and the cost of power. That's not just cherry-picking by region. When you look at the 15 states in the mainland U.S. with the highest share of solar power, there's no association with electricity bills.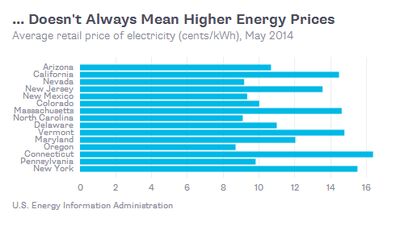 Here's another point in favor of the argument that the U.S. could produce a lot more solar energy: Among the states that already rank highest, there's no single policy that accounts for that success. Instead, states have approached it using a mix of subsidies, surcharges, trading systems and regulations.
For example, Arizona requires utilities to get 15 percent of their power from renewable sources by 2025. California gives utilities permission to add a surcharge to customers' electricity bills to fund solar projects. North Carolina gives partial tax exemptions to developers of large-scale solar facilities. New Jersey lets the owners of solar panels sell "renewable energy certificates" to offset their cost. Whatever your ideology, there's a solar program for you.
The takeaway is that geography and political affiliation are only so important to a state's ability to generate solar power. As the EPA fight continues, it's worth remembering that moving away from coal doesn't have to be as hard as the critics say it is.
This column does not necessarily reflect the opinion of Bloomberg View's editorial board or Bloomberg LP, its owners and investors.
To contact the author on this story:
Christopher Flavelle at cflavelle@bloomberg.net
To contact the editor on this story:
Stacey Shick at sshick@bloomberg.net
Before it's here, it's on the Bloomberg Terminal.
LEARN MORE