Banking Needs an Appetite for Risk
HSBC Chairman Douglas Flint, never an excessive risk taker, is warning of an "unwarranted risk aversion" among bankers. Risk won't disappear, just shift to where there is less scrutiny.
by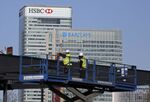 Douglas Flint, the chairman of HSBC Holdings, Europe's biggest bank by market value, says excessive regulation is making bankers too risk-averse for their own, and their clients', good. There's nothing new about bankers squirming under regulatory pressure, but Flint's warning carries extra heft because of who he is -- and because of an unpleasant corollary to his observation: Growing risks outside the banking system.