Why Obama Is Backing His CIA Chief
President Barack Obama is determined to show national security bureaucrats that he has their backs.
by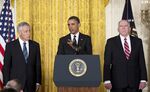 The Central Intelligence Agency spied on the Senate, and CIA Director John Brennan lied about it. When the news broke, several senators, including Democrats, called for the director's resignation.