Editorial Board
Waking Up to Africa's Opportunity
This week's U.S.-Africa Leaders Summit will be a success if it achieves just one thing: alerting businesses and investors to Africa's new economic potential. 
by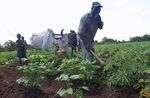 This week's U.S.-Africa Leaders Summit has several purposes, but it will be a success if it achieves just one: alerting businesses and investors around the world to the economic potential that Africa has already begun to fulfill.
In the first event of its kind, President Barack Obama will meet leaders from across the continent. The main goal, he says, is to strengthen political and economic ties, with business opportunities a particular focus. (The U.S.-Africa Business Forum on Tuesday is co-sponsored by Bloomberg Philanthropies.)
In many quarters, the idea that Africa is a hopeless repository of stagnant economies refuses to die, but it's shamefully out of date. Africa as a whole is rising, and many of the world's fastest-growing countries are in the region.
Economies in sub-Saharan Africa are projected to expand by more than 5 percent this year, faster than the developing-country average. Capital is flowing to the region, and many African governments are striving to keep it coming. Last year, the World Bank reported that of the 20 countries taking the biggest steps since 2009 to promote business through regulatory reform, nine were in sub-Saharan Africa.
This isn't just a resource boom. Many African countries are commodity producers, and they've been helped by rising prices as the global economy has picked up. But new lines of business in telecommunications, financial services, manufacturing, retailing and transportation are also doing well.
Plainly, Africa doesn't want for problems. Conflict and lawlessness blight many areas. The Ebola tragedy now commanding headlines exposes, among other things, pitifully weak African health-care systems under extreme stress. In general, life-threatening poverty persists on a terrible scale. The necessary condition for defeating it is investment in critical infrastructure -- yet the region's economies are still investing too little in roads, power and the other vital precursors of sustained growth.
That's one area where the summit, with luck, will do more than raise awareness. In Africa, some 600 million people are without electricity. It's a point Obama will emphasize, partly because the U.S. has a variety of policies to promote electrification in the region. The commitment is welcome, but these initiatives are poorly coordinated and sometimes at odds with one another.
Different versions of a law to promote African power projects are moving through Congress. The administration has its own Power Africa initiative, a partnership of U.S. agencies, African governments and the private sector. The Overseas Private Investment Corporation (which mobilizes private capital in support of development and U.S. foreign policy) is involved. And U.S. priorities influence the infrastructure policies of the World Bank and other official lenders.
All this effort is commendable, but politics too often intrude. For instance, Washington's many would-be helpers are preoccupied with wondering whether the U.S. should promote alternative-energy as opposed to conventional-energy investments in Africa. The right answer is both -- so long as the 600 million without power don't have to wait any longer than necessary to join the modern world. The strategy needs clarifying; once that's done, the proliferating initiatives to support it need to be streamlined.
Supporting infrastructure investment is good, but the single best -- and the least costly -- thing the U.S. and other rich countries could do to help Africa is promote further economic integration, both within the region and globally. Under the African Growth and Opportunity Act, now more than a decade old, most African manufactured products enter the U.S. duty-free. This law is due to expire next year. Getting it renewed for an extended period should be Obama's top African priority.
Broadening access beyond manufactured products to include African farm products comes a close second. At the moment, African agricultural exports are mostly shut out of the U.S. market. (Europe bought $20 billion of African farm exports in 2012; the U.S. bought $2 billion.) Bringing farm products fully into the AGOA system would be ideal but would require new legislation; short of that, the administration has discretion to tweak the existing restrictions in favor of African farmers.
One thing to remember this week is that Africa is making progress mainly because of its own efforts. That's what makes this latest Africa Moment more significant than its predecessors. Good domestic governance and homegrown enterprise will do more for the region's people than anything the U.S. and other rich outsiders attempt. The best ways to help are by opening rich-country markets to Africa's exports, by extending and streamlining existing aid initiatives, and above all by recognizing Africa as the fabulous economic opportunity it now is.