Portuguese Lessons
Whatever shenanigans killed Banco Espirito Santo, someone got away with additional monetary mischief even after the Portuguese authorities realized something was rotten. 
by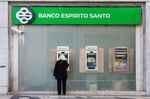 Now that Portugal has taken over Banco Espirito Santo SA, using something called a resolution fund and splitting the institution into good and bad banks, a tour of the arrangement's small print offers a few lessons.
1) Portugal is still in denial.
"The state will bear no costs related to this operation," the central bank said in a news release. Well, that's sweet music to Portuguese taxpayers, who should have looked askance at being on the hook for the 4.9 billion-euro ($6.6 billion) rescue. Except it isn't strictly true. The release also says:
Given that the Resolution Fund started its operation only in 2012 and has not available sufficient financial resources to finance the resolution measure applied to Banco Espirito Santo, S.A., the Fund took out a loan from the Portuguese State.
Now, asset sales and other revenue-raising measures may well mean that loan gets repaid in full at zero cost to the good people of Portugal. However, to claim that this kind of bailout isn't an exercise in state aid is to be very economical with the truth.
2) There has been naughtiness.
Whatever shenanigans killed the bank -- which looks increasingly like a Ponzi scheme run for the benefit of its founding dynasty -- someone got away with additional monetary mischief even after the Portuguese authorities realized something was rotten at what used to be the nation's biggest lender. According to the central bank statement:
Acts committed when the replacement of the former management had already been announced, led to an additional loss of around 1.5 billion euros.
Although it is unclear precisely what this means, it would seem to suggest that the shell game of moving assets around the web of different units in the Espirito Santo group carried on even after it became clear the jig was up. That, in turn, suggests Portugal's banking regulator may have some questions to answer about its supervision of what was clearly a failed institution (why else would you kick out the management?), and that its fraud investigators might want to get busy.
3) The link between sovereigns and their banks is fraying.
Portugal has moved relatively quickly to quarantine Banco Espirito Santo, with equity investors and subordinated bondholders bearing the pain while senior debt and deposits go unscathed.
One of the key aims of the various attempts to solve the too-big-to-fail conundrum is to sever the perceived ligature between nations and their financial institutions. That seems to be working; no one looking at a chart of Portuguese government bond yields would have any idea the country had just lived through a financial calamity.
4) Angola?
Banco Espirito Santo had a $266 million loss in Angola, where it had $4.4 billion of money-market exposure, according to Kapilan Theiventhirampillai and Jonathan Tyce, research analysts at Bloomberg Intelligence. That's Angola, the southern African nation. The hidden hole illustrates some of the challenges regulators such as the European Central Bank face when trying to design stress tests to assess financial institutions, the analysts said.
It also suggests that ordinary mortals need to make sure the banks in which they salt away savings or invest a pension plan don't have any odd-looking adventures in faraway lands, where transparency might not be all that it should be.
This column does not necessarily reflect the opinion of Bloomberg View's editorial board or Bloomberg LP, its owners and investors.
To contact the author on this story:
Mark Gilbert at magilbert@bloomberg.net
To contact the editor on this story:
Marc Champion at mchampion7@bloomberg.net
Before it's here, it's on the Bloomberg Terminal.
LEARN MORE