James Brady and the Fallacy of Good Guys With Guns
On the day he was shot, James Brady was surrounded by good guys with guns.
by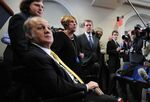 Good guys with guns abounded on March 30, 1981, mere months into Ronald Reagan's presidency, as Reagan exited the Washington Hilton. The space was thick with police and Secret Service agents, all of them alert, armed and well-trained. Altogether they were no match for a lone goofball with a gun.

Indeed, it's a testament to John Hinckley Jr.'s consummate lack of skill that, in attempting to kill Reagan, the first shot he fired put a hole in the head of Reagan's press secretary, James Brady. Five wild shots later, Hinckley finally hit Reagan -- on a ricochet off the presidential limousine.
Hinckley understood the power of a gun even if he hadn't bothered to master it. In one chaotic burst of rage, a mentally unstable loner got the best of a phalanx of professionally trained police and special agents. Good guys with guns will rarely be a match for a single opponent armed with the element of surprise.
Brady survived the shooting but, unlike Reagan, never recovered. He spent the rest of his life in a wheelchair, with impaired functioning and speech. Along the way, he and his wife, Sarah, became a driving force, and for a time the public face, of the campaign for gun regulations. He died today.
The year of Brady's death, at age 73, is a remarkable one for his effort. Guns are likely to surpass automobiles as a cause of death in the U.S. this year. Legislatures in Arizona, Florida, Georgia and elsewhere have been passing legislation seemingly designed to mock everything Brady came to champion.
But if the march of reason through history is any gauge, Brady will eventually triumph in his battle for the regulation of firearms. Meanwhile, there will be more James Bradys and Gabrielle Giffords -- many more holes in many more heads. Because right now, the only thing between another Hinckley and another gun is -- well, there isn't anything is there?
This column does not necessarily reflect the opinion of Bloomberg View's editorial board or Bloomberg LP, its owners and investors.