view
So Where Are Those Raises?
There's still not much evidence of wage inflation in the U.S.
by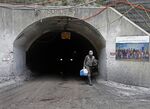 One of the big debates over the Federal Reserve's extraordinary stimulus policies focuses on wages: Some would like to see them growing faster, while others worry that raises could trigger an inflationary spiral.
Whatever your perspective, the latest data from the Labor Department don't show much evidence of wage acceleration.
Overall, the pace of wage growth in the private sector has been remarkably slow and steady: Hourly earnings rose at an annualized rate of 2 percent over the past three months, roughly the same as over the past year and since the beginning of the recovery in mid-2009. That's just enough to keep up with consumer price inflation, which has run at an average annual rate of 2 percent since mid-2009.
Workers in some industries have been doing better than others. Thanks to the shale boom, wages in mining and logging are up more than 5 percent from a year ago, though the growth appears to be slowing down in recent months. Finance and information have been doing well -- further evidence of the advantages of working in so-called knowledge industries.
All told, though, wage gains have been meager, and still trail far behind the pace at which workers' output per hour has increased during the recovery. A bit more of a raise should be nothing to worry about.
To contact the author on this story:
Mark Whitehouse at mwhitehouse1@bloomberg.net
To contact the editor on this story:
Toby Harshaw at tharshaw@bloomberg.net
Before it's here, it's on the Bloomberg Terminal.
LEARN MORE