French Billionaire's T-Mobile Bid Is Great for U.S.

Leonid Bershidsky is a Bloomberg View columnist. He was the founding editor of the Russian business daily Vedomosti and founded the opinion website Slon.ru.
Read More.
French billionaire Xavier Niel's interest in acquiring T-Mobile is the best thing that ever happened to the U.S. mobile telecommunications market, particularly if the former programmer and porn peddler does the same in the U.S. as he did in France with his Free operator.
Niel has been called France's Steve Jobs. Rather, he is the French telecom industry's Gerard Depardieu. Niel doesn't have the actor's passion for alcohol or a Russian passport, but he does have the long hair, the paunch, the modest background of growing up in a town with a 25 percent immigrant population, the disdain for the ossified French establishment, and no college degree.
If Niel, France's eighth-richest man with a $9.2 billion fortune, persists, the American public will be treated to the public relations kit that English-language papers have drawn on for years when profiling the exotic tycoon, little-known outside France. People will hear of Niel's father giving him a Sinclair computer at 14, his early programming feats and business success with porn chats on the Minitel (the French precursor of the Internet, which, unlike the modern version, allowed true anonymity), his month in jail and conviction for failure to declare income from peep shows, his role in starting the first French Internet provider.
Americans will hear the (apocryphal) story of Martin Bouygues, the owner of France's third mobile operator, saying of Niel's attempt to get a mobile operator license, "I have not bought a castle so I could let the gypsies invade the lawn." They will learn how Niel used the quote, published by the satirical investigative paper Le Canard Enchainee: He sent a truck plastered with "We Are Not Gypsies" to Bouygues's headquarters -- and made fun of Bouygues upon finding no lawn to park on.
None of that matters much. It's in France, with its somewhat stuffy business culture that still frowns on jeans and open-necked shirts, that such colorful personalities rate at the top. The U.S. has seen its share of boastful rebels. It's Niel's vision of how a telecommunications provider should work that could finally give Americans a taste of one of Europe's tangible life quality advantages.
Niel launched Free Mobile in January 2012, and by April of that year, the service had 2 million subscribers. Free offered unlimited calls, texts and data for 20 euros a month ($27), mainly using the capacity of its biggest competitor, Orange. (Martin Bouygues labeled the market leader a traitor to the industry's interests for doing a deal with Niel). Now, Niel's company has 12 percent market share, and it's still growing faster than its competitors. Martin Bouygues, who once declared he'd rather "croak" than sell the mobile arm of his empire to Niel, was on the verge of doing just that earlier this year, when he bid for France's second-biggest mobile operator, SFR, and had to satisfy regulators. A rival, Numericable, got SFR in the end, but Niel was the real winner: The French mobile industry failed to consolidate, and his gypsy camp on the nonexisting lawn was safe.
Some might say Niel compromised on quality to be able to start his price war. Free is still building its own network, so, according to the French telecom regulator, it scores lower in service quality tests than its three more established competitors. The latest review put Free Mobile's average download speed at 4 megabits per second, and the regulator tsk-tsked. That speed, however, is higher than what any U.S. operator's 3G is able to deliver. In fact, it's comparable to Sprint's 4G speed. Plus, in France unlimited data plans are really unlimited: Throttling speeds for people who use a lot of data is not such a universal practice as in the U.S.
Meanwhile, here's what the entrance of Free did to a French mobile user's average monthly bill (numbers are in euros, EUR1=$1.34):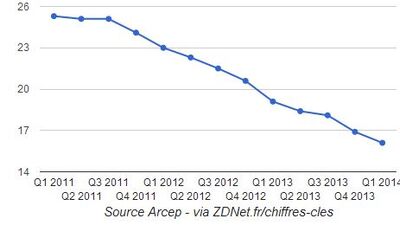 In the U.S., a mobile operator's average income per user is $48.17. There is a lot of room on that lawn.
The U.S. telecom establishment is as worthy of Niel's contempt as the French one, but it's tougher to break into because of the market's sheer size and its insular nature. Besides, with U.S. companies suffering from the French concept of economic patriotism, it's not clear whether the American regulators are ready for a disruptive French entrant.
There's also the fact that Iliad, Niel's holding company, has a $14.85 billion market cap, and it offered $15 billion for T-Mobile. It will have to raise the offer for Deutsche Telecom, which controls T-Mobile, to drop its plans to sell to Japan's Softbank, owners of Sprint. Niel, an avid venture investor and known risk-taker, may be punching above his weight.
If the upstart is sent packing, though, it will be America's loss, not his.
This column does not necessarily reflect the opinion of Bloomberg View's editorial board or Bloomberg LP, its owners and investors.
To contact the author on this story:
Leonid Bershidsky at lbershidsky@bloomberg.net
To contact the editor on this story:
Toby Harshaw at tharshaw@bloomberg.net