Ever Confused Your Shirt for a Bra? Me Neither.

Mark Gilbert is a Bloomberg View columnist and writes editorials on economics, finance and politics. He was London bureau chief for Bloomberg News and is the author of "Complicit: How Greed and Collusion Made the Credit Crisis Unstoppable."
Read More.
A U.K. court rulingthis week beggars belief. Thomas Pink Ltd., a London-based retailer of the kinds of shirts tailored to dress for success at work, sued Victoria's Secret, which makes the kind of lingerie guaranteed to undress for success in the bedroom. L. Brands Inc., which owns the underwear maker, was infringing copyright with its "Pink" range of what my grandmother would have called unmentionables, the shirt-maker contended.
Here's what Judge Colin Birss had to say in his ruling against what he called the "sexy, mass-market appeal" of the maker of smalls:
Consumers are likely to enter one of the claimant's shops looking for lingerie and be surprised and disappointed when they find they have made a mistake.
Surprised? Disappointed?? A mistake??? There is no way on God's green earth that anyone would mistakenly walk into a Thomas Pink shop hoping to find the shelves stocked with frilly underwear, only to become overwhelmed with shock and dismay at the racks of sensible but dull collared-and-cuffed overgarments on display.
Here's a Thomas Pink shop: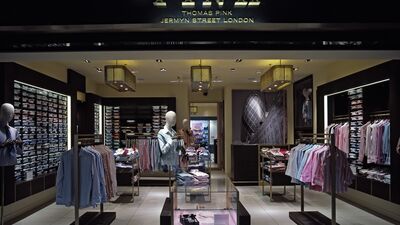 And here's a Victoria's Secret display: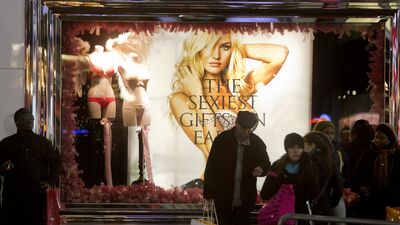 I would suggest that anyone who confuses the former with the latter should let the spouse do the shopping.
Birss has a track record on copyright and trademark disputes, though -- at the risk of insulting a judge -- he seems a little inconsistent. Shoppers are smart enough to tell Apple iPads from Samsung tablets because the latter are "not as cool," he has ruled. Chocaholics, though, need protection from confusion about the color purple, he decided in a judgment granting Cadbury, owned by Kraft Foods, exclusive rights to a certain shade of the color.
Now, the Victoria's Secret range did include t-shirts as well as swimsuits and nether garments, so you can sort of see why Thomas Pink might have reached pre-emptively for its lawyers. Nevertheless, the claim that consumer confusion might arise is absurd, and the trend toward allowing corporations to copyright everyday words, colors, numbers and the like should stop.
This column does not necessarily reflect the opinion of Bloomberg View's editorial board or Bloomberg LP, its owners and investors.
To contact the author on this story:
Mark Gilbert at magilbert@bloomberg.net
To contact the editor on this story:
Toby Harshaw at tharshaw@bloomberg.net