Brazil Threatens Banks for Honesty
Off with their heads, says Brazil's Queen Dilma when bankers bring her bad news.
by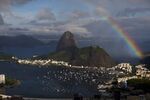 After Brazil's 7-1 flameout against Germany in the World Cup semifinals, one irate fan was caught on film smashing his television. That's one way to go. Now Brazilian President Dilma Rousseff has found another. When a foreign-owned bank posted a note it had sent high-income clients asserting that the stock market and Brazil's currency will likely swoon if Rousseff rises in the polls ahead of the October elections, the Brazilian incumbent went nuclear. "I think it is inadmissible for any country, especially the seventh economy in the world, to accept any level of institutional interference from any member of the financial system in electoral and political activity," she told reporters this week. "We will look into some form of action."
Former President Luiz Inacio Lula da Silva, Rousseff's political mentor, was more graphic. "This girl doesn't understand squat about Brazil¸" Lula growled about the Banco Santander Brasil SA analyst in a meeting with trade union leaders. "They should fire her and give me her bonus. There's no place in the world where Santander earns more money than in Brazil."
In another democracy, such big wind might be waved off as inclement politics. But since Lula is a Brazilian legend, and doing business in Brazil often means keeping cozy with power, the market took note. Instead of standing up for its staffer, Santander sacked her and, for good measure, reportedly other bank analysts, as well. "The person has been fired," Santander Chairman Emilio Botin announced in a press conference in Rio de Janeiro, as though speaking of pest control. "This was one analyst's opinion, it is not the opinion of the bank."
By bashing the bank, of course, Rousseff only heightened apprehensions over the parlous state of the national economy. Brazilians have a saying for such a blunder. They call it "passando um recibo," or delivering a receipt -- an overreaction to criticism that ends up only italicizing the critique. Lately, receipts have been flying.
Santander's hapless analyst was guilty of committing candor. Latin America' wealthiest nation has slowed to a crawl, with official projections for growth topping out at less than 1 percent this year:

Inflation is climbing and Brasilia is struggling to boost investor confidence. Government debt and the public deficit are rising, and new jobs are drying up faster than the reservoirs in drought-strafed Sao Paulo. "The current employment picture is as bad as it was back when the global economy was imploding in 2008 and 2009," says Alberto Ramos, of Goldman Sachs.

More broadly, Rousseff's slapdown with Santander speaks volumes about the quality of Brazilian capitalism, where the state casts a large shadow and can make life difficult for businesses and investors. "The Brazilian government has a history of intervening in the market," notes Sergio Lazzarini, who teaches business administration at the Sao Paulo university Insper. "Banks naturally fear colliding with power."
Some perhaps more than others. In 2011, Santander fired its chief economist, Alexandre Schwartsman, when he took government-owned Petrobras to task for trying to bankroll its drilling operations with new stock issues.
Of course flailing at lenders will do about as much to right a troubled economy as smashing flat screens does to rescue Brazil's beautiful game. But with Rousseff's job on the line, look for more flying receipts.
This column does not necessarily reflect the opinion of Bloomberg View's editorial board or Bloomberg LP, its owners and investors.