view
Allergan Doesn't Want to Sell to a Bunch of Insider Traders
You can't insider trade ahead of a tender offer. You can insider trade ahead of a merger. Just go nuts, it's fine. (Please don't go nuts, it's not fine.)
by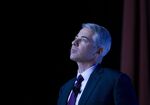 Valeant Pharmaceuticals' fight to take over Allergan, assisted by Bill Ackman's Pershing Square Capital, is among the scorchiest of scorched-earth takeover battles. Today Allergan upped the entertainment factor by suing Valeant and Pershing Square for insider trading. The lawsuit is very clever and great fun, if you're into this sort of thing. 1 In particular, don't miss paragraph 124, in which Allergan says that Valeant "Contacted Allergan sales representatives and welcomed them to Valeant," "Visited Allergan customers, announcing that they were Allergan's new sales representatives" and "Offered rebates on both Allergan and Valeant purchases," all of which is at the very least incredibly rude, though its connection to insider trading is at best unclear.
Valeant's and Pershing's response is also pretty clever. They point to a memo from Allergan's own lawyers saying that what Valeant and Pershing did is legal and that the Securities and Exchange Commission should change the rules to make it illegal. Which somewhat undercuts Allergan's current argument that it was actually illegal all along. Valeant and Pershing also point out -- what is probably true -- that the main purpose of the lawsuit is to delay their efforts to throw out Allergan's board and buy the company.
The story is this: Valeant and Pershing Square decided to team up to buy Allergan. The division of labor was that Valeant, a drug company that likes to buy drug companies, would do the actual buying of Allergan. Pershing Square, an activist hedge fund, would front the cash (and take the risk) to buy several billion dollars worth of Allergan stock, giving Valeant a toehold, some friendly votes, and some expertise in how to wage bitter wars with corporate boards. (Which is coming in handy!)
Of course, Valeant and Pershing Square knew about this plan, because it was their plan. They came up with it. But then they went and bought a bunch of Allergan stock without telling anyone about the plan. Or someone bought a bunch of Allergan stock, anyway. Technically it was a thing called PS Fund 1, LLC, a shell company that they set up together with a little money from Valeant and a lot of money from Pershing Square. 2 PS Fund 1 ended up buying 28.9 million Allergan shares at an average price of $129.28. They announced all of this in April, and the stock closed at $163.65 the next day.
Since then there's been three months or so of vicious merger wrangling, and on June 18 Valeant announced that it was launching a tender offer for Allergan. 3 But well before that -- really the minute Valeant and Pershing announced their purchases -- many people freaked out, asking: Isn't this insider trading? Many other people said, no, come on, this is not insider trading. I was one of them. Here's what I said:
Insider trading is trading on material nonpublic information in violation of a duty of confidentiality. It's not illegal to trade while knowing your own intentions, even if your intentions are material. If Bill Ackman is planning to buy 9 percent of Allergan, he can buy the first 1 percent, even though he knows that he'll eventually buy more and it'll be a whole big public thing. And -- this is true -- if Valeant is planning to offer to buy 100 percent of Allergan, it can buy 9 percent first before announcing its intentions publicly. This is straightforwardly the law.

It is! And since Valeant and Pershing Square had an explicit agreement on using their information together, they're unquestionably not doing anything illegal under "normal" insider trading law. And not even Allergan argues that they are. 4
But there is a special insider trading rule called Rule 14e-3. It says that if anyone "has taken a substantial step or steps to commence, or has commenced, a tender offer" for a stock, then no one else who has material information about the tender offer can buy any of the stock without first publicly disclosing the information. So the questions here are:
When Pershing and Valeant bought all those Allergan shares, had anyone "taken a substantial step" to commence a tender offer?
Is the person who bought the Allergan shares a different person from the person commencing the tender offer? 5

Allergan says that the answer to both questions is "yes," and that therefore Pershing Square was insider trading, and therefore it stole money from innocent sellers like the in-house Allergan lawyer who's a named plaintiff in the complaint, 6 and that therefore it should have to I guess give back all the shares that it bought. More importantly, Allergan thinks that this should delay Pershing's ability to call a special meeting of Allergan stockholders to vote on the deal until, I don't know, 2015 or forever or something. 7
So is that right? Let's take the second question first. It's technical and interesting and just ever so slightly metaphysical: Is the person who bought all of the stock the same person as the person making the tender offer? PS Fund 1 bought 28.9 million shares of Allergan stock, so it's probably the buyer of the stock. And Valeant is making the tender offer. And PS Fund 1 is not Valeant. But the tender offer also says, "although none of Pershing Square, PS Fund 1 or any of Pershing Square's affiliates is offering to acquire any shares of Allergan common stock in the offer, PS Fund 1 is considered a co-bidder for SEC purposes."
I don't really know what that means. It just says it. If it's true that PS Fund 1 is a co-bidder, then its previous purchases were purchases made by the offering person, and so don't violate Rule 14e-3. Allergan thinks it's not though:
Crucially, only Valeant is offering consideration in the form of shares and cash to Allergan's stockholders. By contrast, Mr. Ackman and the other Pershing Square entities are together offering precisely zero to Allergan stockholders -- they are seeking to sell Allergan stock, as Valeant seeks to buy it.
If you're not "offering to acquire any shares," it is somewhat weird to call you a co-bidder. 8 But that's not quite true: Pershing Square has actually agreed to commit $400 million of equity financing for the deal, beyond what it's already paid for Allergan stock. And PS Fund 1 isn't just any old company; it's a company partially owned by Valeant, the actual bidder. So there's at least a plausible case for lumping PS Fund 1 and Pershing Square together with Valeant.
The other question is whether Valeant had, at the time Pershing started buying, taken any "substantial steps" toward launching a tender offer. Those substantial steps don't have to be all that substantial, 9 and there's no doubt that Valeant and Pershing had taken substantial steps toward trying to acquire Allergan. The question is whether they had taken steps toward a tender offer. Those are different questions. You can insider trade to your heart's content on plans to propose a merger. 10 It's plans to launch a tender offer that create problems. 11
Here's what Valeant and Pershing had agreed before they started buying:
[T]he parties acknowledge that no steps have been taken towards a tender or exchange offer for securities of Allergan and the parties agree that the consent of both Pershing Square and the Company shall be required for launching such a tender offer or an exchange offer. If a Company Transaction is being pursued by the Company through a tender or exchange offer or a merger or any related proxy or other solicitation prior to the Termination Time, each of the Company, Pershing Square and the Co-Bidder Entity will be identified as co-bidders or soliciting persons, respectively.

Allergan now calls this "a feeble, self-serving attempt to circumvent the insider trading rules," and argues that even agreeing about who needs to give permission to launch a tender offer is itself a step towards launching a tender offer. On the other hand, back in April, after reading that same language, Allergan's lawyers said that Pershing and Valeant "took express pains to sidestep Rule 14e-3 which outlaws insider-trading in connection with a tender offer, by styling themselves as co-bidders and not (yet) proceeding towards a tender offer." So it's strange that they now read that agreement to be a step toward making a tender offer.
In any case, Valeant obviously did not want to launch a tender offer. It really wanted to negotiate a merger with Allergan's board. It intended to propose a merger, it said it intended to propose a merger, and it did propose a merger. And Allergan said no.
Allergan now argues that Valeant should have expected this (probably true!), and that therefore it had to know all along that it would end up doing a tender offer. The difference between a tender offer and a merger is, basically: The board needs to agree to a merger. The shareholders can just sell into a tender offer without board permission. And if the board won't give you permission, then a tender offer is the way to go:

Based on Allergan's response to Valeant's prior overture, however, and as corroborated by analyst commentary in February 2014, which underscored that Allergan would not be interested merging with Valeant -- particularly where Allergan's stockholders would be compensated in large part with Valeant stock -- Valeant was well aware that a friendly business combination would not likely occur, and conceded as much later on. Indeed, contrary to Valeant's claim that it was looking for a friendly deal, Valeant and Pershing Square from the outset engaged in the sorts of pressure tactics commonly associated with hostile tender offers: a media blitz, multiple threatening letters to Allergan's Board, and direct communications with Allergan's customers and employees falsely claiming that the deal was a foregone conclusion.
I don't know. This feels a little unfair to me? Like, can you really accuse Valeant and Pershing Square of breaking the law because you decided to blow them off, and they should have expected you to blow them off? Perhaps Valeant and Pershing were just starry-eyed optimists and couldn't imagine, in their wildest dreams, that Allergan would say no to their proposal.
Even if they did know that, it wouldn't necessarily mean that they'd launch a tender offer. I said above that shareholders can sell into a tender offer without board permission, but that's not always true. The board can, and this board did, put in place a poison pill that essentially prevents a tender offer from closing. The only way around that is to run a proxy fight to replace the board, and Valeant and Pershing Square at least seem to have that in mind. But if they succeed in replacing Allergan's directors with their own candidates, then presumably those candidates would be willing to approve a merger.
So why launch the tender offer? It does nothing now -- shareholders can't actually tender into it because of the poison pill -- and if Valeant ever persuades or replaces Allergan's board, then it could just do a friendly merger and dispense with the tender offer. The existence of the tender offer is probably helpful in persuading Allergan shareholders to call for a special meeting and to vote for Pershing/Valeant's candidates, but it's also very unhelpful in opening the door to this lawsuit.
Anyway: Isn't all of this nuts? I mean, not the lawsuit. The lawsuit is fine. It's not the first lawsuit in this deal, and it won't be the last. Litigators gotta litigate, and in a deal as hostile as this one, if you have a clever lawsuit idea you run with it.
But this crazy stuff is the law. You can't trade on inside information if you got it in some ways, but you can if you got it in other ways. Except that if you got it in connection with a tender offer, you can't -- unless you're a co-bidder, in which case you can. And if it's a merger then it's fine. It's hard to imagine a reason for forbidding insider trading on tender-offer information, but allowing it on merger information. Obviously none of this needs to make any sense to provide employment and entertainment for the lawyers on this deal. But for the rest of us, a little sense might be nice.
To contact the author on this story:
Matthew S Levine at mlevine51@bloomberg.net
To contact the editor on this story:
Toby Harshaw at tharshaw@bloomberg.net
Before it's here, it's on the Bloomberg Terminal.
LEARN MORE