The Communist Roots of China's Capitalist Corruption
Some officials are starting to question the role of the Communist Party in creating the corruption epidemic.
by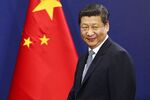 What turns so many cadres bad in contemporary China? Busy purging a generation of corrupt officials from the Communist Party, Chinese President Xi Jinping may not have much time to worry about causes at the moment. This week he's concerning himself with political fallout from the detention of Zhou Yongkang -- China's retired (and still-feared) security chief and formerly ninth-ranking member of the Politburo -- for "serious discipline violations," as the state newsmedia describes them.