Snapchat Might Really Be Worth $10 Billion
Paying $10 billion for Snapchat, an app that has never made a cent, sounds crazy. Is it? 
by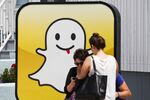 Drug use is on the rise in Silicon Valley: There are 1.4 million prescriptions for the opioid hydrocodone in the Bay Area (population 7 million), and ambitious tech workers are doing more and more street drugs such as cocaine, meth and heroin, the San Jose Mercury News recently reported. Current start-up valuations certainly look hallucinogen-induced. Ephemeral messaging app Snapchat, which has not made a cent in the three years since it was conceived in a frat house, is now reportedly worth $10 billion -- less than eight months after chief executive officer Evan Spiegel spurned a $3 billion takeover bid from Facebook.
There are two complementary explanations for the recent boom in start-up valuations. One is that Facebook drove valuations higher with its high-profile acquisitions, starting with the 2012 purchase of Instagram for $1 billion and culminating in the $19 billion deal earlier this year for instant messenger WhatsApp. (That deal will be closed by August, 2015.) Facebook's bold use of its shares, which trade at about 16 times projected 2014 revenue, elevated the prices of other start-ups.

The other explanation is that investors who used to wait for initial public offerings no longer do. The likes of Fidelity and BlackRock are more willing to back early-stage tech companies: In the first three months of this year, mutual fund companies invested $9 billion in private tech firms.
That, too, is related to Facebook. CEO Mark Zuckerberg has proved that a convincing story about the future can be worth billions of dollars (or tens of billions, in Facebook's case). Consequently, it makes sense to invest before the whole world knows the tale. Stories are expensive. Taxi-hailing app Uber has been valued at $17 billion, cloud-storage company Dropbox at $10 billion, data analysis firm Palantir Technologies at $9 billion and e-store Zalando at $5.3 billion.
Those companies have revenue streams. Snapchat, by contrast, has only vaguely indicated how it might make money from its mainly teenage user base. Some Snapchat celebrities reportedly make real money selling ads to the likes of Disney and Taco Bell, and Snapchat itself has advertising potential. But it's not easy to figure out whether the company will sell ads or pursue a monetization model akin to that of Japanese instant messenger Line, which mainly makes money selling stickers.

Line announced today that its revenue in the second quarter of 2014 reached 18.2 billion yen (about $178 million). The app has 470 million registered users, probably many more than Snapchat, which doesn't reveal its user base but seems to have a large audience share among American youth. Assuming that Snapchat could generate revenue on par with Line, a $10 billion valuation would amount to roughly 14 years worth of sales -- not much different than Facebook's current valuation. Facebook, however, is the market leader. Latecomers in a competitive field always face a certain amount of inertia, which is no doubt one reason why the U.S. Federal Reserve recently warned about "stretched" valuation metrics of "smaller firms in the social media and biotechnology industries."
Both Snapchat and Line are rumored to be in talks with Alibaba, the Chinese Internet giant, whose hotly awaited U.S. initial public offering is likely to be memorable. Line denied a recent report of a possible link-up. Snapchat has not commented on the possibility, but its $10 billion valuation is derived from the prospect of such a deal. (Alibaba badly needs a popular messenger app. Its own, Laiwan, had only 10 million users in April, too few to compete with the popular Chinese messenger, WeChat.)
Facebook has tried twice to replicate Snapchat's concept; both attempts appear to have failed. The ill-starred Poke died quietly, and Slingshot, released last month, ranks only 328th in the Photo and Video category in the U.S. app store, where Snapchat is in the top five.
Like Facebook, Alibaba will soon be able to offer Spiegel lots of highly valued shares for his company. So $10 billion for Snapchat is not a hallucination. Like the $12 billion in shares that Facebook is paying as part of the deal for WhatsApp, it's a good story. If it ends in market share.
This column does not necessarily reflect the opinion of Bloomberg View's editorial board or Bloomberg LP, its owners and investors.
To contact the author on this story:
Leonid Bershidsky at lbershidsky@bloomberg.net
To contact the editor on this story:
Frank Wilkinson at fwilkinson1@bloomberg.net
Before it's here, it's on the Bloomberg Terminal.
LEARN MORE