Snapchat Might Really Be Worth $10 Billion
Paying $10 billion for Snapchat, an app that has never made a cent, sounds crazy. Is it? 
by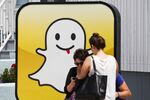 Drug use is on the rise in Silicon Valley: There are 1.4 million prescriptions for the opioid hydrocodone in the Bay Area (population 7 million), and ambitious tech workers are doing more and more street drugs such as cocaine, meth and heroin, the San Jose Mercury News recently reported. Current start-up valuations certainly look hallucinogen-induced. Ephemeral messaging app Snapchat, which has not made a cent in the three years since it was conceived in a frat house, is now reportedly worth $10 billion -- less than eight months after chief executive officer Evan Spiegel spurned a $3 billion takeover bid from Facebook.