Microsoft Probe Fuels China Uncertainty
Beijing's probe against Microsoft has one thing in common with its anti-corruption drive: both efforts are opaque and arbitrary, and could prove counterproductive for the economy.
by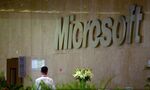 It's hard to keep a straight face as China accuses Microsoft of "monopolistic behavior" and raids its offices in Beijing, Shanghai and elsewhere. What, that cartel known as the Communist Party suddenly has a problem with large organizations that dominate their particular sectors?