Court Protects Gun Owners From Common Sense
If you're a delicate Florida gun owner, you might want to cover your ears.
by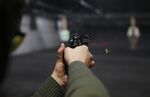 U.S. federal courts have issued two noteworthy rulings on guns in the past week. One is constitutionally significant: It overturns the District of Columbia's ban on carrying handguns outside the home, while showcasing the gun-rights movement's aggressive legal and political efforts to eliminate virtually all regulation. It may go all the way to the Supreme Court, where the justices could potentially use it to establish ground rules for concealed and open carry.