Catch of the Day: Republican Incoherence
A lawsuit is followed by a plea for an executive order.
by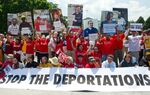 The Catch today goes to ... well, lots of people, but Jennifer Bendery put it best so far: "In last 24 hrs, House GOP 1) sued Obama for using exec authority and 2) said it's up to Obama to use exec authority on border crisis. Ok!"