Editorial Board
The Vladimir Putin of China?
Xi Jinping's anti-corruption campaign may not be all it's cracked up to be. 
by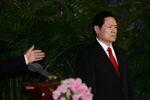 In his takedown of former security chief Zhou Yongkang, Chinese President Xi Jinping has bagged the most fearsome beast in his campaign against corrupt officials, both "tigers" and petty "flies." Unless Xi rethinks the way he hunts, though, even Zhou will end up little more than a trophy kill.