More Trade, Less Talk for Latin America
While the world trades, Latin America's Mercosur talks, and talks, and talks.
by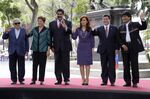 Whenever Latin America's leaders sit together, warm feelings flow. So it was in Caracas this week at the 46th summit of Mercosur, where the five heads of state of the struggling South American trade bloc outdid one another in displays of bonhomie and companerismo.