Ford Says Hello IPhone, Goodbye Blackberry
Ford's decision to switch its global workforce to iPhones suggests Apple is starting to nibble at BlackBerry's lunch in the world of corporate mobile. 
by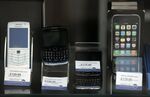 BlackBerry Ltd.'s Chief Executive Officer John Chen said earlier this week that he's not sure the device can ever regain the iconic status that once won it the moniker CrackBerry, because of users' propensity for habitual texting. The decision by Ford Motor Co. to switch its global workforce to Apple Inc.'s iPhone suggests Chen faces a more fundamental challenge to his business.