Europe Won't Admit It's Spiraling Into Deflation
It's a long two years since ECB President Mario Draghi's pledge to do "whatever it takes" to safeguard the euro project. The risk of deflation makes it time for action to match those words.  
by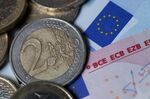 Back in March, European Central Bank Governing Council member Jens Weidmann said that the "deceleration of prices" seen in the euro region was a temporary phenomenon caused by a drop in energy and food prices. What sounded unlikely then now looks myopic, misinterpreted or disingenuous, depending on how charitable you're feeling.