Trade of the Day: Buy a Faraday Cage

Mark Gilbert is a Bloomberg View columnist and writes editorials on economics, finance and politics. He was London bureau chief for Bloomberg News and is the author of "Complicit: How Greed and Collusion Made the Credit Crisis Unstoppable."
Read More.
In 1859, a solar storm dubbed theCarrington Event was strong enough to trigger fires lit by the sparks from malfunctioning telegraph equipment. Elliot Management Corp., the $24.8 billion hedge fund run by Paul Singer, iswarning investors that a similar electromagnetic pulse that could knock out global electricity grids for months would pose a "significant danger."
So the Trade of the Day is to buy a Faraday cage to protect your electronic gadgets. And, while you're shopping at Amazon.com, you might also want to buy yourself a power generator -- just in case.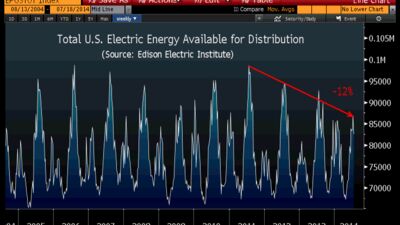 This column does not necessarily reflect the opinion of Bloomberg View's editorial board or Bloomberg LP, its owners and investors.
To contact the author on this story:
Mark Gilbert at magilbert@bloomberg.net
To contact the editor on this story:
James Greiff at jgreiff@bloomberg.net