view
Russia's Argentine Debt Tango
Argentina isn't the only creditworthy country that could be forced to default on its debt. Consider Russia.
by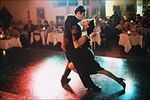 As Argentina comes to the brink of a possible default on its sovereign debt, it's worth considering another country that could find itself in a similar situation: Russia.
Argentina's debt drama will reach a crucial stage this week. Under a recent New York court decision, the government has until July 30 to reach an agreement with a small group of "holdout" creditors who refused to participate in a previous debt restructuring -- otherwise it will default on payments to creditors who accepted the deal. Troubling as the predicament may be for Argentina, investors aren't too concerned about the broader effect on markets: A sovereign default, if it were to occur, would be driven by legal issues specific to Argentina, rather than by larger financial or economic malaise.
That said, Argentina is not entirely unique. Russia is on a similar path, though the details and the timetable differ.
Russia's government, companies and banks neither need nor want to default on their debts. If, however, Ukraine-related geopolitical tensions get worse and pressures mount on Western governments to impose legal limitations on banks' ability to transact on behalf of Russian entities, they may find themselves unable to make payments despite ample international reserves and manageable debt loads.
After last week's intensification of U.S. sanctions, Europe is preparing to detail its own set of additional sanctions this week. Absent a change of strategy by Russia -- an unlikely outcome given how President Vladimir Putin readily ignored the opening provided to him by the tragic downing of the Malaysia Airlines jet on July 17 -- harsher financial sanctions could materialize soon.
The market has yet to fully absorb this possibility. Many investors believe that the Russian geopolitical issues will somehow resolve themselves, because it is in nobody's interest to stumble into a lose-lose situation. Yet, as with Argentina, rationality is not necessarily a good guide to what could happen. Absent a course correction, the conflict is proceeding on a path that limits the flexibility of the parties, along with the control they have on outcomes.
Most investors' credit models do a pretty good job of capturing the many factors that impact debtors' willingness and ability to pay. They have greater difficulty, however, dealing with the one-off exogenous shocks that politics can deliver. Argentina is today's example, with all the suspense that it entails. If Russia does not change course, it could be tomorrow's.
To contact the author on this story:
Mohamed Aly El-Erian at melerian@bloomberg.net
To contact the editor on this story:
Mark Whitehouse at mwhitehouse1@bloomberg.net
Before it's here, it's on the Bloomberg Terminal.
LEARN MORE