Now Donald Sterling Can Only Sue Himself
A judge awarded Shelly Sterling what way too many outlets are (accurately) terming a "clean sweep" in her legal battle with Donald Sterling over the ownership and sale of the Los Angeles Clippers.
by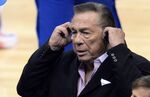 A Los Angeles County judge has awarded Shelly Sterling what way too many sportswriters are (accurately) terming a "clean sweep" in her legal battle with husband Donald Sterling over the ownership and sale of the Los Angeles Clippers.
Judge Michael Levanas handed down a tentative oral decision that favored on all three counts in question, ruling that Shelly "clearly had the authority" to negotiate the sale of the team to Steve Ballmer, the former Microsoft chief executive officer. In accordance with the Sterling Family trust, Shelly had two doctors evaluate Donald, who was deemed him mentally incompetent and removed as a co-trustee, an evaluation upheld by the judge.
Most important, Levanas granted Shelly's request for provision 1310(b), which allows her to go ahead with the sale regardless of any further legal action by her husband, who technically can still appeal. He has two other lawsuits pending in the matter: a one against Shelly and Ballmer that charges them with collusion with the NBA, and an antitrust suit against the league that seeks more than $1 billion in damages.
It's hard to feel too bad for Donald, a cartoonishly bigoted man who now stands to make $2 billion despite his dogged resistance to the team's sale. Shelly Sterling and Ballmer have until Aug. 15 to complete the deal, finally putting an end to this endless saga.
As part of the deal, Shelly will retain the title of "owner emeritus," and will run a team-affiliated charity. Frankly, it's a little unsettling how scott-free she gets off in this entire affair. She's managed to make everyone forget that she, too, has said some pretty racist things, juxtaposing herself against her easier-to-revile husband. Sure, she decided not to go the litigious route against the NBA, accepting her $2 billion fate and a cushy philanthropic position, apparently a major reason she decided to stop fighting. But she was also accused of using hate speech in several discrimination lawsuits, calling Latinos "filthy" and expressing her displeasure with "certain ethnic groups" inhabiting the apartments owned by the couple. Then there's the charge, caught on video and upheld by a judge, that she regularly posed as a health inspector in order to harass minority tenants. Her attorney describes her as "the innocent estranged spouse," but she seems just as guilty as her husband in all areas but one.
Of course, it's her decision to take on her husband rather than the league that matters most to the NBA and Clippers fans. The league had been prepared to continue the termination process had the judge ruled in Donald's favor. Those proceedings could well have lasted beyond the league's tentative Sept. 15 deadline, meaning the Sterlings could have still owned the team by the start of training camp in October. Had that happened, Clippers star Chris Paul indicated there was a strong possibility that several players would boycott, while head coach Doc Rivers would likely have quit.
The team, the city and the league can now avoid all that. The only thing at stake in the remaining lawsuits is money, but recall that Shelly indemnified the NBA on behalf of the family trust back in May. The trust, not the league, would thus be responsible for awarding Donald's damages. As Sports Illustrated's Michael McCann put it, Monday's ruling strongly supports the legality of the indemnification, meaning Donald would be effectively suing himself (and his wife).
I can't think of a more fitting ending.
This column does not necessarily reflect the opinion of Bloomberg View's editorial board or Bloomberg LP, its owners and investors.