Is Your Car an Underwater Time Bomb?
Car sales have been a bright spot in the U.S. economy, but only because dealers have been goosing the numbers with shortsighted strategies and subprime loans.
by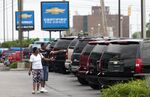 America has had a rocky recovery from the 2007-08 financial crisis, but one group of Americans has done quite well: car dealers. Even as job and wage growth have stagnated, auto sales have uncoupled themselves from those traditional economic drivers to become one of the few sources of strength in the macroeconomic picture.
As the economists Amir Sufi and Atif Mian point out in their new book "House of Debt," one of the big factors supporting overall retail spending in the U.S. since 2008 has been the expansion of auto credit. Sufi and Mian don't celebrate this fact -- they rightly see it as a symptom of broader secular stagnation in the U.S. economy. Indeed, a few recent statistics demonstrate the very precarious underpinnings of the auto industry's prosperity:
The average auto-loan term has increased every year since 2010, reaching 66 months in the first quarter of this year, according to Experian Automotive. In the same period, loans with terms of 73 to 84 months grew 28 percent, while loans with terms from 25 to 72 months actually fell.

Equifax reports that U.S. auto loan volumes are at an all-time high, with some $902.2 billion outstanding at the end of the first half of 2014, up 10 percent year-over-year.

The New York Times reports that subprime auto loans have grown by 130 percent in the last five years, with subprime lending penetration reaching 25 percent last year.

Leases make up another quarter or so of auto "retail sales" according to Experian, another metric that is currently at all-time highs.

27 percent of trade-ins on new vehicle purchases in Q1 2014 had negative equity, according to the Power Information Network, another troubling indicator on the rise in recent years.
With half of new car sales supported either by leases or subprime credit, and ballooning loan terms leaving an increasing number of new car buyers underwater on their trade-ins, it's clear that auto demand is hardly at a sustainable, organic level. Last year, 38.8 percent of dealer profits came from financing operations, according to the National Automobile Dealers Association, and General Motors has relied on some $30 billion in largely subprime receivables held by its GM Financial unit to show an increase in revenue in the first two quarters of this year.
How long can it last? With residual values faltering, and Fed rates likely to increase, demand for securities backed by bundled auto loans could soon take a hit. Without demand on the securitization side, the ever-expanding pool of auto credit could start to dry up. When the bubble pops, the effect won't simply come in the form of losses on the loans themselves. Rather, as repossessed vehicles flood the market, used vehicle values will drop to the point where they begin to lower new car demand. By juicing short-term sales, automakers and new-car dealers have been robbing from their own futures.
A growing awareness of this short-term thinking, especially in terms of its potential effects on the broader economic picture, seems to invite the kind of government regulation of auto credit that the industry fought hard to win freedom from in the aftermath of the financial crisis. On the micro level as well, the excesses of increasingly predatory subprime auto lending are increasingly attracting the attention of regulators. A writer for the industry journal Automotive News, for example, worries that the New York Times investigation of subprime auto lending "offers ammunition" to federal regulators.
Though auto credit was initially exempted from the Consumer Financial Protection Bureau, both that body and the Federal Trade Commission have had their eyes on the auto lending business for some time. The CFPB has alleged that allowing dealers to vary their interest rate profits results in higher rates for minorities, an allegation that has lenders ramping up their monitoring of dealerships. In recent months, the FTC started investigating biweekly car payment schemes and cracked down on the subprime lender Consumer Portfolio Services over fairness in collections and loan servicing; one lawyer for a lending firm called it the "beginning salvo in a regulatory onslaught."
If that is such a scary thought to dealers, then the industry has little choice but to improve self-regulation and curb its excesses, before the car bubble bursts.

This column does not necessarily reflect the opinion of Bloomberg View's editorial board or Bloomberg LP, its owners and investors.