Editorial Board
Europe Puts Putin in a Corner
Ostracizing Russia won't resolve Ukraine's tensions, or a host of other nasty crises.
by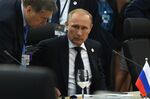 With their decision today to escalate sanctions against Russia over Ukraine, Europe's leaders have finally injected a little spine into their diplomatic posture.

The need to respond to Russian President Vladimir Putin's provocations in Ukraine has been clear for some time, and it's hard to understand why it has taken Europe so long. At the same time, resolving that crisis -- and meeting the broader challenge posed by a revanchist Russia -- will require not only the continued unity of the European Union and U.S., but also a willingness to engage Russia.
In true European fashion, the sanctions hammered out in Brussels among the EU's 28 members come out midway between a bang and a whimper. Among other things, they ban Russia's state-owned banks from selling stock or long-term debt on European markets; block shipments of high-tech oil-drilling equipment; and impose an embargo on future arms shipments. Several new Russian officials and entities are also now on the existing sanctions list.
These new steps -- which the U.S. subsequently complemented -- impose significant pain on Russia's $2 trillion economy and on some European firms. Yet the EU also carved out some glaring exceptions: France gets to proceed with the sale to Russia of the first of two Mistral helicopter carriers, for instance, and Germany doesn't have to worry about sanctions on Russia's natural gas, on which it heavily depends.
This aversion to pain illustrates the asymmetry that often underlies sanctions, which countries use only when they don't care enough to go to war. The EU and the North Atlantic Treaty Organization may not care enough about Ukraine to take up arms, but the same can't be said about Putin, who has ratcheted up Russia's military engagement with the rebels, launching attacks from Russian territory on their behalf. What's more, his aggression has won him frothy public approval ratings:
That points to the challenge the U.S. and EU face in handling Putin's response, which will likely go well beyond inspections of the cheese used on Moscow's Big Macs. Will sanctions deter Putin from countering advances that Ukraine's forces have made against the rebels, for instance? As part of a sustained effort to bolster domestic support for sanctions, the U.S. and EU should share as much evidence as possible about Russia's backing for the rebels, including advancing the investigation into last month's downing of Malaysia Airlines Flight 17. They should also make crystal clear that this round of sanctions on Russia will not be the last if that backing continues.
At the same time, Putin needs to be offered a clear off-ramp from his current path to global pariahdom. Today's report of Russia's violation of the Intermediate-Range Nuclear Forces Treaty by testing a ground-launched cruise missile is a reminder of the manifold hazards of a rogue Russia. So is this week's court judgment against Russia for its illegal takeover of Yukos -- the biggest compensation award ever in an arbitration case. Unfortunately, ostracizing Russia will not resolve these problems, much less gain its cooperation in curbing the nuclear aspirations of Iran, deterring North Korea's bad behavior or bringing some measure of peace to Syria.
The same goes for achieving peace in Ukraine: Stiffer sanctions are a long-overdue reminder to Russia that aggression can have steep consequences. But they won't do anything to resolve Russia's deep-seated concerns about its own security. As hard as they may be for some Westerners to fathom, they nonetheless demand awkward, difficult and high-level diplomatic engagement.
--Editors: James Gibney, Michael Newman.
To contact the author on this story:
The Editors
To contact the editor on this story:
David Shipley at davidshipley@bloomberg.net
Before it's here, it's on the Bloomberg Terminal.
LEARN MORE