EU Practiced Its Russian Sanctions in Cyprus
Sanctions will add little to Russians' status of Europe's second-class financial citizens. In Cyprus, they are just now getting a second haircut after last year's costly bail-in of local banks.
by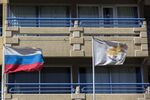 Europe's new financial sanctions against Russia will be among the first meaningful ones the West has introduced since the Ukraine crisis started. But punishing rich Russians is not exactly new territory for the EU -- it has been doing so since last year in Cyprus.
In 2012, the Mediterranean island's banking system turned out to be too big -- its assets reached three times gross domestic product -- and too exposed to Greece's financial problems for its authorities to handle. Cyprus begged the European Union for help, but it was a bad time: Germans were already fed up with having to pay for southern European countries' mistakes. Instead of a full bailout, a bail-in was forced on Cyprus, with bank creditors and large depositors having to accept losses. That was the precondition for a $13 billion aid package from the EU and the International Monetary Fund.
Many of those depositors happened to be Russians: Cyprus, as much as London, was a playground for ex-Soviet business tycoons because of low dividend taxes and the use of business-friendly English law. Major Russian businesses are owned by Cypriot holding companies. Moody's, the credit ratings agency, estimated last year that Russian banks had $12 billion and private individuals another $19 billion on deposit with banks in Cyprus.
That, at the time, was cited as a major reason why Cyprus wasn't going to get a bailout. "A secret German intelligence report reveals that the main beneficiaries of the aid would be rich Russians who have invested illegal money there," the German weekly Der Spiegel wrote in November, 2012. "It's a big dilemma for Chancellor Angela Merkel."
It didn't matter whether the Russian -- and Ukrainian, no distinction was made at the time -- money was illegal or not, the "non-EU depositors" were going to take a haircut. At Bank of Cyprus, the country's biggest financial institution, 47.5 percent of deposits above the insured amount of $134,000 was converted into the bank's shares. More than a third of the deposits were blocked for six, nine and 12 months without interest. Cyprus also introduced curbs on capital movement, forcing Wargaming.net, a big videogame developer from Belarus, to buy a large stake in Cyprus' second biggest bank, Hellenic, so as to retain control over its deposits.
Vladimir Strzhalkovsky, who received a $100 million golden parachute when he quit as chief executive of mining giant Norilsk Nickel, became a big Bank of Cyprus shareholder. So did other wealthy Russians -- not oligarchs of the first magnitude, but well-known figures such as banker and real estate magnate Mikail Shishkhanov and investor Vitaly Yusufov. Russians make up a third of Bank of Cyprus' board.
Now, they are in for a second haircut. Cyprus' central bank has told Bank of Cyprus to ramp up capital ahead of this year's asset quality review and stress test by the European Central Bank. So, reluctantly, the bank has raised $1.3 billion through a share sale to U.S. private equity investor Wilbur Ross, the European Bank for Reconstruction and Development and a few others. They bought the shares for $0.32 apiece, compared to the $1.34 the depositors were forced to pay last year.
With 55 percent of its portfolio in nonperforming loans and provisions of only 35 percent, the bank is still not a pretty picture, but now it boasts a high tier one capital. The Russians, meanwhile, are faced with dilution and a sharp devaluation of their stock, which is not traded publicly on any exchange. Some of them have been selling the shares to distressed-asset funds at a little more than 10 percent of last year's bail-in value.
Both before and after the Crimea annexation, Russians have been second-class financial citizens of the EU. It has used them as guinea pigs to test the bail-in procedure, which is now accepted as the EU's bank-rescue policy, and it won't hesitate to deal them another slap. Arguably, Europe will still be somewhat safer for Russian capital than Russia itself, where, under President Vladimir Putin, everything ultimately belongs to the state.
This column does not necessarily reflect the opinion of Bloomberg View's editorial board or Bloomberg LP, its owners and investors.